Gay for Pay! Sugar Bear Faking Sex With Men For Reality Fame, Friends Say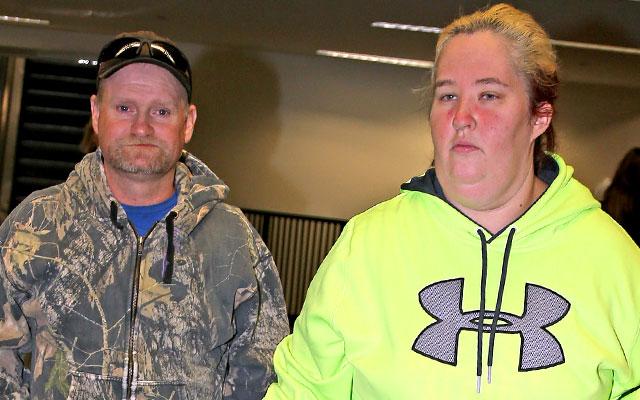 Mike "Sugar Bear" Thompson shocked fans with his on-camera confession that he "experimented" sexually with men while in a ten-year relationship with Mama June Shannon— but could the former Here Comes Honey Boo Boo patriarch be lying?
A source close to the on-off couple, currently starring on WE tv's Marriage Boot Camp: Reality Stars, exclusively tells RadarOnline.com that Thompson is telling tall-tales for fame— and a paycheck!
Article continues below advertisement
"It's all for show," the insider insisted. "June is desperate for attention and to stay relevant without their reality series, and she has Sugar Bear along for the ride."
They are also sorely missing their network TV money, the source revealed: "They know that bringing the drama will bring them big bucks."
As RadarOnline.com previously reported, Thompson admitted to secretly saving X-rated photos of naked men on his phone on last week's episode of Marriage Boot Camp: Reality Stars.
Earlier in the episode, he claimed to have cheated with his ex-wife in his truck, and arranged a motel tryst with an unknown woman.
The 43-year-old father of Alana "Honey Boo Boo" Thompson, 10, also said he may be a sex addict.
Last year, Thompson's 32-year-old brother Lee "Uncle Poodle" Thompson shut down rumors that the Georgia-based dad was gay.
"June is starting s***," he told RadarOnline.com.
In 2014, the family's TLC reality show was canceled following Shannon's rekindled relationship with an ex-boyfriend who had molested her oldest daughter Anna, now 22, as a young girl. (She claimed to have only seen her ex once since his release from prison earlier that year.)
Since then, Shannon, 36, has appeared on The Doctors, and will next reportedly make an appearance on E! plastic surgery series Botched.