Another Betrayal! Rob Snubs Kanye For Blac Chyna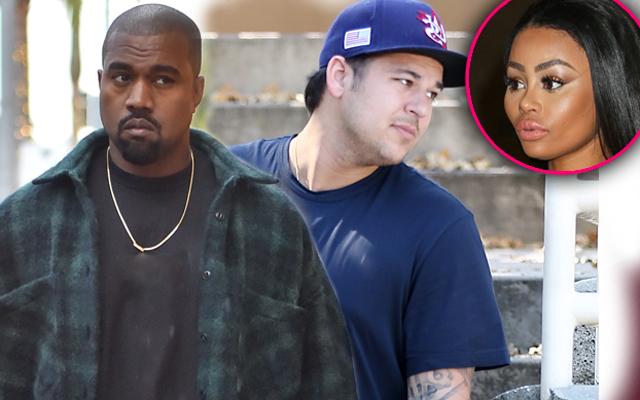 Rob Kardashian has turned on his family as his romance with Blac Chyna heats up, RadarOnline.com has learned. In the latest stunning betrayal, sources say the failed sock mogul has turned down a job offer from his successful brother-in-law, Kanye West.
Rob, 28, "has been languishing for awhile, and Kim asked Kanye if there was any opportunity for Rob to work at his fashion line with Adidas," an insider told Radar. "Kanye had several conversations with Rob about what role he could fill. Possibilities included having Rob act as a liaison between Kanye and Adidas."
Article continues below advertisement
"But before anything could come together, Rob told Kanye he just didn't want to work for him," the source said.
Instead, as Radar reported, he's been getting close to his new girlfriend, Kardashian enemy number one Blac Chyna, the baby mama to 18-year-old Kylie Jenner's on-again, off-again boyfriend Tyga, 26.
The video vixen, 27, nearly broke the internet Sunday night when she posted a photo of herself cozied up to Kylie's big brother, Rob. Although the photo has since been deleted, it was up on Blac's Instagram long enough for Rob's entire family to see the defiant post for themselves.
And Rob was quick to follow. After recently deleting all of his Instagram posts, he posted a photo on his page this morning that joked that Blac Chyna may be pregnant with his first child.
The source added, "Rob seems to have gone completely off the reservation, and isn't under any control of the family. But he is having fun!"