Kenya At The Center Of 'RHOA' Fights, Gay Scandals & Ruined Friendships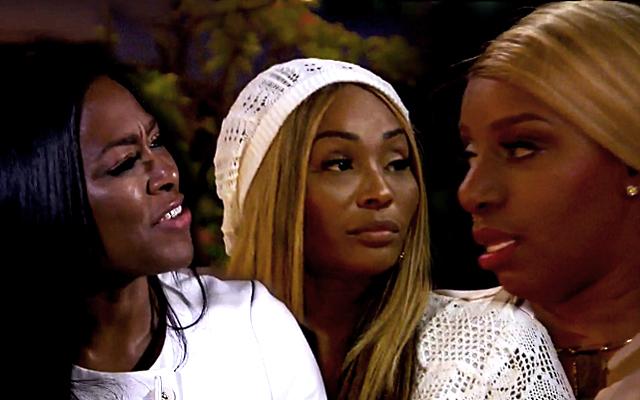 As NeNe Leakes returns to the Real Housewives of Atlanta, the drama on the show heats up big time.
In a preview for the rest of the season, the women battle, friendships come to an end, the Feds get involved and a gay scandal disrupts what little calm is left within the group.
Leakes, 48, has already returned to RHOA to reconnect with Cynthia Bailey, 47, but as the women head to Jamaica, the former queen bee surprises the rest of her costars.
Article continues below advertisement
Over a dinner, Leakes learns that Bailey is "besties" with her enemy Kenya Moore, 44.
"You all are besties?" she questioned Bailey.
Knowing that she is playing with fire, Bailey replied, "Kenya and I are still getting to know each other — we don't just wake up and you're bffs over night."
After this, Moore confronts Bailey about dropping her like a hot potato.
"You denied that we were friends," she said.
But Bailey isn't willing to talk about the subject.
"I've only built Cynthia up," Moore complained to a friend. "NeNe has only tried to tear her down."
But Moore is also at the center of another storm.
It looks like she has spread a rumor that Kim Fields's husband Christopher Morgan could possibly be gay — and Sheree Whitfield, 46, shares the gossip with Fields, 46.
"There were some things said about your husband being fruity or gay," she said.
Article continues below advertisement
Fields then confronts her husband, and he told her that she doesn't need to "check" him.
After that, she approaches Moore about the accusations.
"You're not going to talk about me," she warned. "You're not going to talk about my family."
"Congratulations for being able to speak for yourself," Moore replied.
They try to hash things out again in a different scene.
"Clearly there is some issue," Moore stated.
But Fields doesn't want to play nice anymore — and the conversation turns into a full-out verbal brawl.
"You have not tried to grow up," Fields shouted. "Nobody seems to really like you."
"Everything about you is tired," Moore returned.
Fields then storms off.
In other parts of the RHOA community, Phaedra Parks, 44, learns that her husband Apollo Nida, 37, left his motorcycles in the care of Kandi Burruss's husband Todd Tucker while he went away to prison.
"Todd has Apollo's motorcycles at his house," Porsha Williams, 34, told Parks. "The feds went over to the house to get it."
And Williams meets with a doctor to talk about freezing her eggs.
RHOA airs on Sundays at 8 PM ET on Bravo.