Kris Jenner Uses Scott & Kourtney For 'KUWTK' Fakery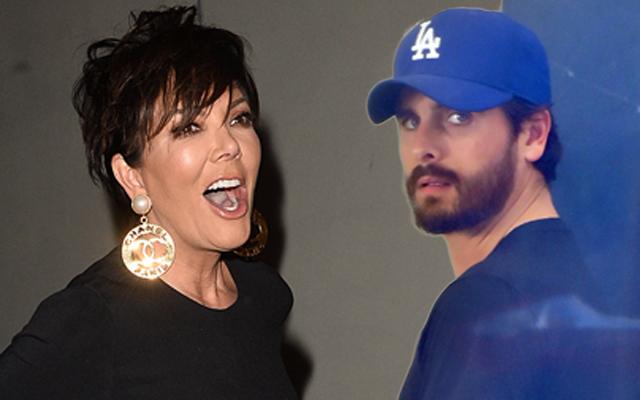 Kris Jenner isn't above using her family's misfortunes for ratings fakery, and her daughter Kourtney Kardashian is her latest victim!
The momager has been caught countless times manipulating scenes for Keeping Up With the Kardashians and the most recent episode had another glaring example of fakery for the sake of a storyline.
On Sunday, January 3, 2016, viewers saw Scott Disick arrive at Jenner's house for what he thought was a one-on-one with his baby mama's mother. However, he seemed to be blindsided by the presence of Kourtney, Khloe and Kim Kardashian, who all ripped into him over his recent behavior.
Article continues below advertisement
An emotional Disick is seen telling the women that he was so depressed with his life situation — cheating on his baby mama with young models and being restricted from seeing his children — that he contemplated suicide, which brought everyone to tears.
According to the hilariously biting tumblr Keeping Up With the Kontinuity Errors, the scene was filmed on September 3, 2015.
However, while Kourtney is seen complaining that she never sees her baby daddy, she made this exact same complaint way back in the second episode of Season 11.
In that episode, Lord appeared alone at Jenner's home and she called Kardashian on the phone and the two of them proceeded to lambast him for abandoning his children. That scene was filmed on September 14, 2015, nearly two weeks after the scene in Sunday's show. But it actually aired back on November 22.
Can you keep up?
Kardashian and Disick's drama was just another drastic example of manipulation for Jenner's ratings-challenge KUWTK.