Khloe Disses Kim: You Can Come On My Talk Show— IF You Lose Weight!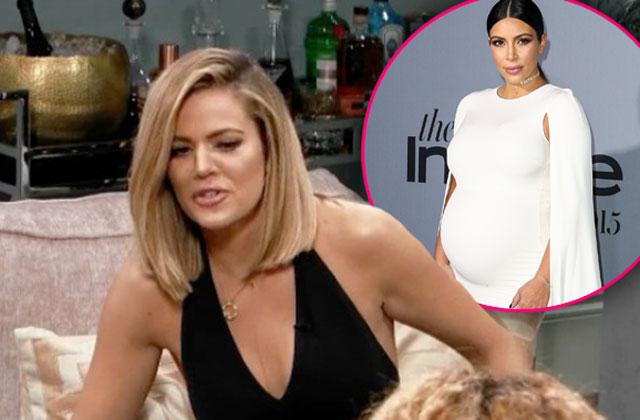 Khloe says Kim can come on her show IF she loses weight- DISS
Khloe Kardashian asked pin-thin model sister Kendall Jenner to be the first guest on her new talk show, Kocktails With Khloe— but Kim is going to have to wait!
The outspoken hostess called the 35-year-old mom of son Saint, 1 month, on her FYI show premiere in order to play a pregnancy prank. When she and Kendall, 20, came clean about the joke, Khloe ended the conversation with a shocking diss.
Article continues below advertisement
"Keeks, I love you, and when you lose a few L-Bs, I want you to come on Kocktails With Khloe," she said, using her big sister's nickname. "I love you!"
When guests called her out for the rude remark, Khloe, 31, justified her behavior.
"She's in hiding until she loses a few L-Bs!" she explained.
Kim has been camera-shy since Saint's December 5 birth, only stepping out to run errands earlier this month in a heavy black coat.
She also attended mom Kris Jenner's annual Christmas Eve bash, but ensured that her full body couldn't be seen in social media snaps.
The weight-obsessed reality star has vowed to get her pre-baby body back.
"This is going to be soooo f***ing hard but I can do it and I can't wait to share it all with you!" she tweeted earlier this week.