'I Didn't Do It!' Josh Duggar Claims To Have Photos, Videos Proving Innocence In Porn Star Battery Lawsuit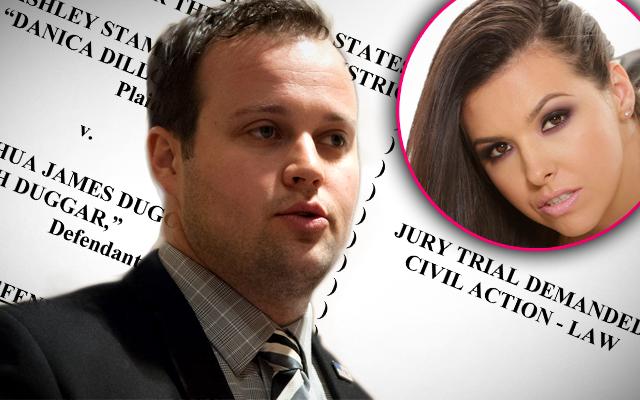 Not only does Josh Duggar deny beating a porn star during paid sex sessions, he swears he never met her— and claims to have proof!
In new U.S. District Court documents relating to Danica Dillon's $500,000 battery lawsuit obtained by RadarOnline.com, Duggar's attorneys claim he was not in Pennsylvania during the dates of the alleged incidents, and has never been to the strip clubs or seedy hotels where the two allegedly met up and later had rough sex.
Article continues below advertisement
READ THE SHOCKING COURT DOCUMENTS
And he claims to have plenty of evidence to back up his story.
Duggar "and his counsel have already provided more than one hundred pages of alibi documents to Plaintiff's counsel, as well as video footage and photographs," the attorneys wrote. "Defendant also supplied the contact information of many eyewitnesses to ensure that substantive initial disclosures were produced."
The 27-year-old married Christian then requested the court order Dillon, otherwise known as Ashley Stamm-Northup, 28, to provide evidence of the $500,000 in damages she claimed to have suffered at his hands, including wage information and medical treatment costs.
"Plaintiff filed a Complaint against a public person. She hailed Mr. Duggar into Court in a state in which he has only ever passed through briefly and in which he was not present on the dates Plaintiff alleges she was injured," his lawyers said. "Now, having sued Mr. Duggar and made very serious allegation — both in her Complaint and to the nation on Entertainment Tonight— Plaintiff cannot find the time to comply with court orders that she supply the information necessary to support her allegations."
Article continues below advertisement
Of course, the disgraced "family values" activist also took the time to shame the adult film actress and escort in his documents.
Even though he insists he never injured or even met Dillon, Duggar argues that her assault and battery accusations should be dismissed because she was engaging in "illegal activities" during the alleged incident.
"Plaintiff's claims are barred in whole or in part by the doctrines of estoppel and unclean hands because Plaintiff was engaged in illegal activities at the time she sustained the injuries alleged," his attorney wrote.