Kendall Jenner Slams Farrah Abraham On Khloe's New Show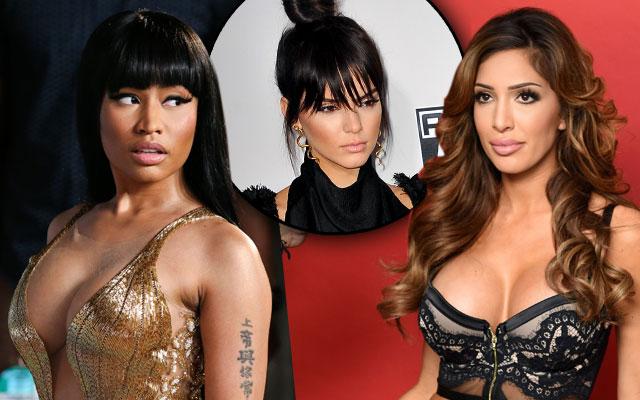 The feud between Farrah Abraham and Nicki Minaj just exploded!
But this time, it wasn't the Teen Mom star or the lady-rapper pulling the strings.
In the debut episode of Khloe Kardashian's talk show, Kocktails With Khloe, guest Snoop Dogg and Kym Whitley reenacted the famous fight with wigs and all.
Whitley played Minaj while Snoop used an interesting accent to spoof Abraham.
The two went back and forth reading off the tweets that had sparked the feud in the first place.
Article continues below advertisement
As RadarOnline.com previously reported, the drama began when Minaj, 33, criticized Abraham's behavior on her MTV show, writing, "Farrah is a c*** to her mother."
"Your mother didn't open her legs and have that child," the singer continued, referring to Abraham's daughter Sophia, 6. "Be happy she's helping! Stop talking to her like that on tv u lil c***."
When one of Minaj's followers joked about Sophia hitting her mother during a recent episode, Minaj retweeted the message, adding: "She was like b**** go do some porn & leave gramma alone."
Abraham, 24, replied to Minaj saying, "Cause your a parent right? Your videos look like porn Horrible good luck being negative #Godbless busy making TV."
She didn't stop there — Abraham took to Snapchat to share a video of Sophia slamming Minaj.
"Hi everybody, Nicki Minaj is a total loser," the little girl said.
She also posted a caption that read, "Nicki Minaj please stop saying bad WORDS."
In the first episode of Kocktails With Khloe, Kendall Jenner and Kardashian also both sided with Minaj.
"I just don't really agree with a lot of Farrah's decisions in life, so that's why I would just say I'm on Nicki's side," the 20-old-model said. "I'm always team Nicki."
Kardashian, 31, agreed: "I'm team Nicki all the way."
Watch the videos and tell us what you think about the recreation of the Minaj-Abraham social media brawl.