Farrah Takes A Swing At Kendall After 'Kocktails With Khloe' Diss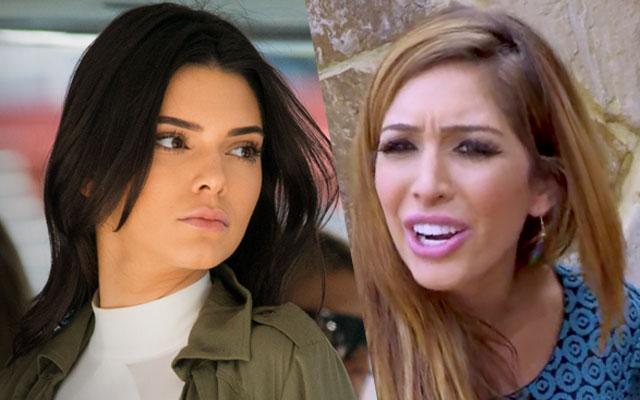 Farrah Abraham has moved on from her social media war with Nicki Minaj to new targets: Kendall Jenner and Khloe Kardashian.
It all started when Kardashian had her guests Snoop Dogg and Kym Whitley spoof Abraham's feud with Minaj on the premiere episode of Kocktails With Khloe.
After the skit was done, Kardashian's sister Jenner took a major dig at Abraham.
"I just don't really agree with a lot of Farrah's decisions in life, so that's why I would just say I'm on Nicki's side," the 20-old-model said. "I'm always team Nicki."
Article continues below advertisement
Kardashian, 31, agreed: "I'm team Nicki all the way."
Following on the diss, Abraham, 24, took to Instagram to tear her haters down.
One image she posted was a shot of the Kardashian tribe with an inset of Ray J and text saying, "I made this whole family famous with my d***!!!"
Abraham shared the image with Jenner, hashtagging the callout "#lifechoices."
She also took a swing at 31-year-old Kardashian's talk show. "Flattered that @SnoopDogg played me on @FYI I look forward to my own talk show when this one gets canceled," she captioned a second picture. "We need better shows ??cheers"
"Hilarious .... Need to have my own talk show next..." Abraham wrote on a third image. "Better tv ... More fun... & not talking about old news @fyi ? cheers"
Article continues below advertisement
When one of Minaj's followers joked about Sophia hitting her mother during a recent episode, Minaj retweeted the message, adding: "She was like b**** go do some porn & leave gramma alone."
Abraham replied to the drama saying, "Cause your sic a parent right? Your videos look like porn Horrible good luck being negative #Godbless busy making TV."
She also took to Snapchat to share a video of Sophia slamming Minaj.
"Hi everybody, Nicki Minaj is a total loser," the little girl said, and added a caption stating, "Nicki Minaj please stop saying bad WORDS."