TMI! 'Duck Dynasty' Patriarch Phil Robertson, 69, Boasts About Sex Life With Wife Miss Kay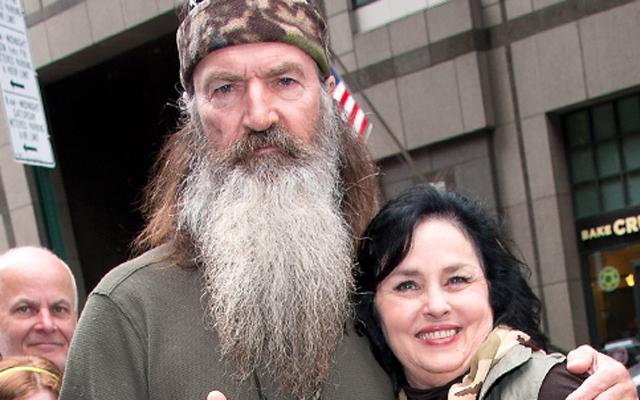 Duck Dynasty patriarch Phil Robertson is not only outspoken about his conservative political beliefs, but his life between the sheets, too!
In his son Al and daughter-in-law Lisa Robertson's upcoming book, The Duck Commander Devotional for Couples, the married writers claim the 69-year-old Duck Commander founder often boasts about getting down and dirty with his wife of more than 50 years, Miss Kay.
Article continues below advertisement
"For all the years we've been together, we've heard Miss Kay and Phil (mostly Phil) discuss their sex life," Al and Lisa reveal in their new read. "Not in detail, mind you, but he just lets you know he enjoys his quiet time with Miss Kay."
"God created a beautiful thing between and husband and wife. It is not something we should be ashamed of or afraid of."
Ali and Lisa also give Miss Kay, 68, credit for sticking by her man through his cheating and battle against alcoholism.
"Miss Kay had every reason to run away from a difficult, unfaithful husband, but she decided to do all she could to fight for her family's survival," they state.
In 2014, Miss Kay was the one to discuss her intimate moments with her husband in an interview with Us Weekly. She even admitted that Al was born out of wedlock!
"Alan says, 'Yeah, I would be the B bastard in the family,'" she said.
The Duck Commander Devotional for Couples will be available online and in bookstores on February 2.