Vicki's Revenge! Court Orders Shamed Brooks To Pay Gunvalson $132K After Cancer Scam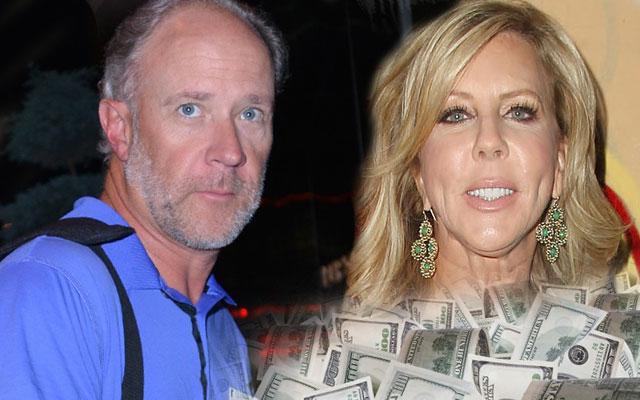 Vicki Gunvalson's relationship with her boyfriend Brooks Ayers went south amid speculation that he had duped the world into thinking he has cancer,but now, the Real Housewives Of Orange County veteran is enjoying a bit of sweet revenge in the form of a $132K settlement!
Gunvalson entered into a deal with her former business partner, Robert Williamson, in relation to her plans to launch a booze line --- Vicki's Vodka. However, the partnership went bad when Williamson accused Vicki of breaching her agreement to promote the brand, thus inhibiting the company's growth.
Article continues below advertisement
The situation grew even messier when Gunvalson involved Ayers in the business. Williamson claims that Vicki sold off 16.67 perfect of the company to Ayers without informing Williamson. Ayers then turned around and sold the percentage back to him, allegedly to raise funds for child support and to pay the IRS. However, following the sale, Gunvalson still demanded that the company ownership be returned to a 50/50 split.
Williamson took the pair to court, alleging fraud. The suit read in part, "Upon information and belief, it was the intent of Brooks and Vicki to lure Williamson into the purchase of Brooks interest without the good faith intent to move forward with the company and make it successful."
The bitter suit resulted in a counter-claim by Ayers against Williamson, his wife, and his alleged mistress, claiming that they had defamed his name and tried to get Gunvalson to break up with him. The three of them denied the accusations.
Then, in June, a judge dismissed Williamson's claims against Ayers on motion, citing the plaintiff's failure to provide evidence of wrongdoing on his part. Gunvalson, however, was not off the hook, and was left to her case alone.
With the claims against him dismissed, Ayers filed a motion asking the judge to compel Williamson to pay his court fees. The motion was granted, and the judgement was awarded in December --- with a major twist --- the money would be paid to his former lover, Gunvalson. "Pursuant to an agreement between Defendant VICTORIA L. GUNVALSON and Defendant DAVID BROOKS AYERS, the Judgement has been assigned to Defendant, VICTORIA L. GUNVALSON."