Khloe Kardashian Shares Second 'Godfather' Quote With Tough Siblings Photo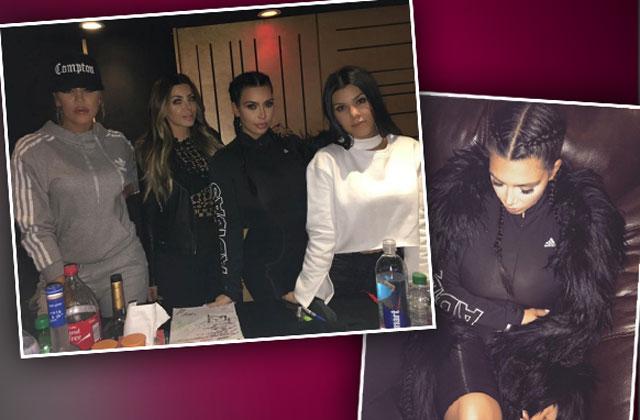 Khloe Kardashian is back to posting subliminal messages on Instagram! The Keeping Up With The Kardashians star, 31, posted a Godfather quote for the second time this week, this time from brother-in-law Kanye West's recording studio.
"Never go against THE Family. I love Yeezy's studio speeches!!" the reality star captioned a photo featuring a tough-looking Kourtney and Kim Kardashian.
Many fans mistakenly assumed that her first quote from the mob movie, posted on Monday, January 25, was a message to her brother, Rob Kardashian, for dating the family's sworn enemy, Blac Chyna.
Article continues below advertisement
"You can do anything. But never go against the family," Khloe had tweeted on Monday.
Though the post was shared quickly after Rob's forbidden relationship was revealed, the Kocktails With Khloe later cleared up the matter, telling followers that the message was meant for someone else.
"You guys do know I have about 100 family members correct? I was referring to a family member who just bailed out of doing my talk show today," she said, before adding cryptically, "But hey, maybe my quote can go towards a few people today."
This time around, however, it's very possible Khloe was purposefully taking aim at brother Rob, since his new boo Blac Chyna is the baby mama of Tyga, Kylie Jenner's boyfriend.
Later, Kim posted her own photo from Kanye's studio, striking a sultry pose.
Will the Kardashian's learn to support Rob in his new relationship or will they side with Kylie instead?