Exclusive
'RHOBH' Star Erika Girardi Rips Into Bethenny 'B**chenny' Frankel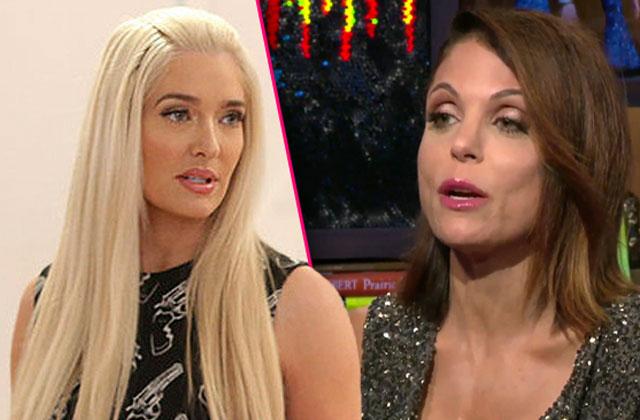 It's East Coast versus West Coast on Bravo! RadarOnline.com has learned that Real Housewives of New York City alum Bethenny Frankel and Real Housewives of Beverly Hills star Erika Girardi are at each other's throats after a series of catty comments.
"Erika can't stand Bethenny," an insider told Radar, noting the reality divas' feud flared up after the two had a nasty run-in while both were in the Hamptons recently.
Article continues below advertisement
"Bethenny insulted her when they saw each other, telling her 'You remind me of Bambi.'"
Girardi was less than pleased about the off-the-cuff comment. "She just thought: 'Who is this women?' revealed the insider. "She called her 'Bitchenny.'
Frankel then sent Girardi, 44, a "defensive" and "laughable" email, said the insider. "Erika said she's annoying and not fabulous and she was not going to deal with her."
"She thinks she's wealthier than Bethenny and just doesn't care," added the insider.
Girardi and 45-year-old Frankel's bad blood is on full display on Tuesday's episode of Real Housewives of Beverly Hills. Frankel joins a dinner party with the cast and offers Girardi — a.k.a. Erika Jayne — unsolicited advice about her new music video.
"I don't love the production value of it. I think it goes too slow in the beginning and it looks cheap," Frankel sniped. "I think it was trying to be a little avant-garde, but it's not quite getting it with that silver cheesy bed."
"I just don't agree with her," responded Girardi. "I don't think she knows what she's talking about."