Kyle Now Claiming Yolanda In Fact Has Lyme Disease: 'She's Suffering'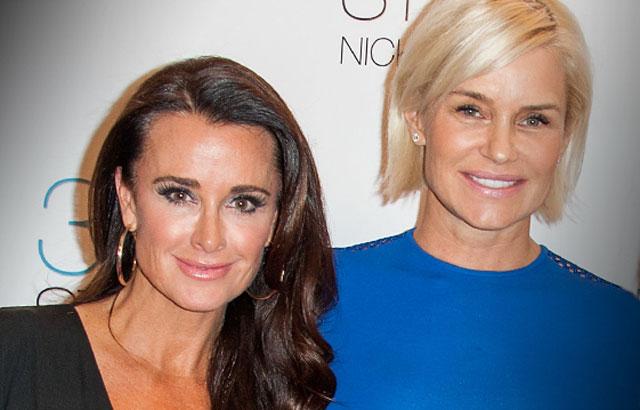 Kyle Richards may have called her Real Housewives of Beverly Hills costar Yolanda Foster's Lyme disease treatments "cockamamie" and "dramatic"," but the 46-year-old reality star has changed her tune.
During an interview with OKmagazine.com, Richards stood by the belief that her frenemy is in fact fighting the disease and that it's not just a fictitious battle.
"There's no doubt whatsoever that Yolanda Foster has Lyme disease and she is suffering," Richards said. "Every day is a battle for her."
Article continues below advertisement
But as RadarOnline.com previously reported, not all of their costars are convinced.
"It's certainly like to the average person, 'Wait this is very strange,' which kind of sparked like 'What is this? What is going on?'" Richards explained. "And there was just some other things going on that Lisa Rinna in particular was questioning."
In the trailer for the new season, Rinna, 52, questioned if Foster, 51, has Munchausen Syndrome — a mental disorder in which a person pretends to be sick, but really isn't.
"With Lisa I think the questioning or saying the Munchausen comment was obviously disturbing to Yolanda," Richards said. "That sparked a whole other thing."
"Sometimes Lisa says things and gets herself into some big trouble," Richards continued. "We knew when that Munchausen word came out of Lisa Rinna's lips, we were in trouble. Lisa Vanderpump and I looked at each other and went, 'Oh no… this is going to be a disaster!'"
Unfortunately for Rinna, her wording backfired on her.
"We don't create a villain or decide, but things end up just happening and I think that it seems to be that when somebody says something that is out of place or taken the wrong way, that happens and the next thing you know they're fighting," Richards said.
As RadarOnline.com previously reported, Foster called out her costar haters in a recent blog post.
"May neither they, nor their families, ever have to face such illness, because it is at that time when we learn and realize what really matters," she wrote.