Yolanda Foster Opens Up On Divorce Drama: 'Sometimes Your Heart Needs More Time'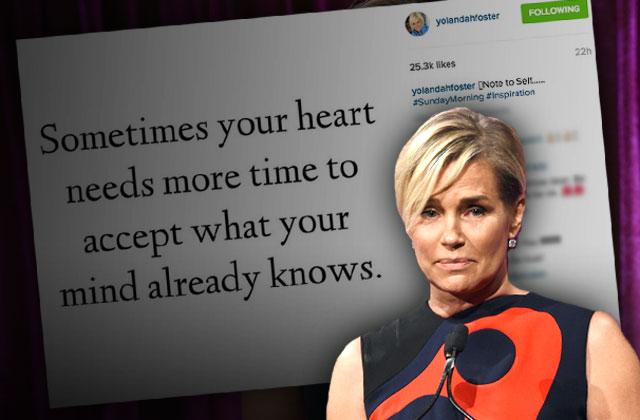 Yolanda Foster continues to share her journey of health and heart to Instagram followers, getting even more personal about her painful divorce from husband of four years David Foster.
In a new post on Sunday, Dec. 13, the former model revealed a "note to self" moment in the form of an inspirational quote: "Sometimes your heart needs more time to accept what your mind already knows."
As RadarOnline.com previously reported, the reality star announced her split from her music producer husband the same day that the Real Housewives of Beverly Hills premiere revealed major strains in their marriage.
Article continues below advertisement
But on a recent addition of Watch What Happens Live, Foster seemed to blame the failed marriage on her ongoing struggles with Lyme disease.
"Well, chronic long-term illness is extremely challenging," she told show host Andy Cohen, implying that her diagnosis caused marital issues. "Not only for the person who is sick but also for the caregiver. It for sure changed the dynamic of the relationship."
Luckily, the star says she's been making major strides when it comes to her health.
"I am much better," Foster recently revealed. "I have about 60 percent better brain function than I did in the last year. I can still only live and plan one day at a time. I will continue to fight for a full recovery."