'RHONJ' Feud: Teresa Giudice Has Forgiven Joe And Melissa Gorga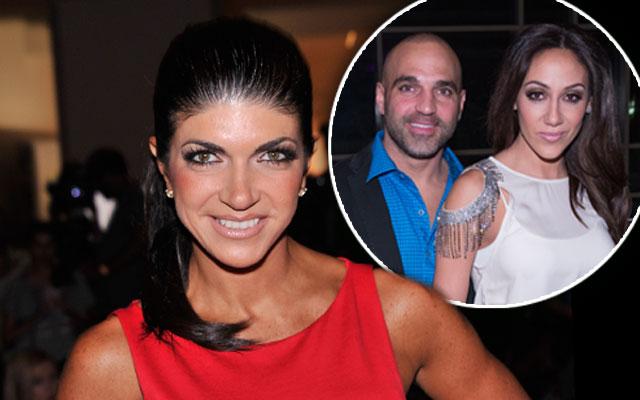 Over the past few seasons of Real Housewives of New Jersey, Teresa Giudice has been embroiled in a nasty fight with her brother Joe Gorga, 36, and his wife Melissa Gorga, 36.
But after spending nearly 12 months in prison, RadarOnline.com has learned that the 43-year-old reality star has decided to let go of the drama.
"She's looking forward to seeing her brother," a source told Radar. "She has really had time to reflect and frankly she has no ill will towards him."
Article continues below advertisement
"She has really worked on herself and has had time to reflect about life," the source explained. "It was really therapeutic for her."
"She's honestly not going back with any ill will towards anybody," the source continued.
Giudice has even gotten over all the drama she had with Melissa too, the source claimed.
"She has forgiven her brother for everything, and she has also forgiven Melissa," the source said.
Unfortunately, the feeling may not be mutual.
"Even though Melissa says in public that she supports Teresa, Melissa still has a lot of animosity towards her," the source claimed.
But Giudice is determined to start a new chapter.
"Teresa, for her part, has definitely released everything and forgiven everyone and turned over a new leaf," the source said. "She has had a lot of time to think about life and think about the mistakes she has made. She's taking responsibility for her actions. She admitted her faults and did her time. She's not trying to point fingers and she's not trying to act like a victim."
Article continues below advertisement
Instead, Giudice is trying to get her life back on track.
"She has come around," the source said. "She is very remorseful about the relationships that not only suffered as a result of this, but also as a result all the stress she was under during the process."
"She attributes the difficulties on the show with all that she was going through," the source concludes. "She's only human. All she can do is say she is sorry to anyone she has hurt, do her time, and really move on. She's in a really good place."
Do you think the peace will last? Let us know in the comments!