Exclusive
'RHONJ' Family Feud! Teresa Giudice Isn't Speaking To Melissa Gorga From Jail, Refusing Her Offers To Help Kids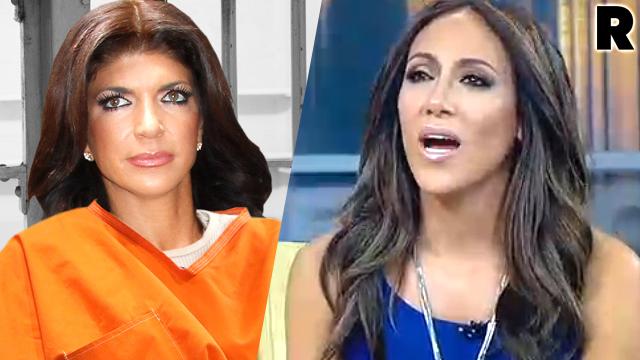 Nothing can stop Teresa Giudice from holding a grudge, not even a prison sentence! RadarOnline.com has learned that The Real Housewives of New Jersey star's feud with sister-in-law, Melissa Gorga, has continued even though she's locked up.
Gorga, who bore the brunt of Giudice's wrath on the Bravo reality show, appeared on Good Day New York, where she admitted that she and her husband's sister haven't seen each other since she was thrown behind bars.
Article continues below advertisement
"No, I think she's keeping her visits for her children," Gorga said. "I think she's going to want every visit to be with her children."
Despite the apparent snub, Gorga took the high road and explained that Giudice is sanguine about her sentence.
"She's doing really well….really well," Gorga revealed. "It's obviously not easy being away from the children, but I think that's probably the hardest part."
Gorga said that since she doesn't speak with Giudice, she is updated on her prison life by her husband, Joe Gorga, who is Giudice's brother.
"She's called Joe and she's talked to Joe and she emails with Joe. Ya know, I think there's limited amount of free time so when she does, I expect her to go through her brother," she said. "She's always, always on the phone with her mother and her children."
Despite the numerous reports that Teresa's husband, Joe Giudice, has been unfaithful to his wife while she serves her time, Gorga said she hasn't cut off communication with him.
Article continues below advertisement
Gorga told Good Day New York that she has seen the Giudice daughters since their mother entered the Danbury Federal prison, however, and has even offered to help care for them, but has been rebuffed.
"I've seen them, yes. They see my mother-in-law a lot, my mother-in-law helps out a lot, and I'm constantly … saying, 'What can I do?' 'What can I do?' 'Where can I drive?' 'Where can I bring them?'" she said. "And they're always like we got it, we got it, we got it, but you know … everybody's good."
What do you think about Teresa freezing Melissa out? Sound off in comments below.