Scott Disick Caught Partying Again After Rehab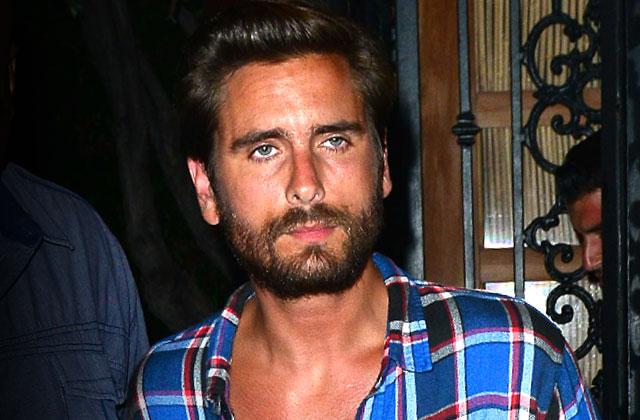 After Scott Disick checked out of rehab in November, the once paid-to-party reality star vowed to avoid club gigs for good, but has he already gone back on his promise?
The 32-year-old was spotted at Chris Brown's invite-only "Royalty" album listening party on Tuesday, Dec. 15, held at Hyde nightclub in Los Angeles, where the group seemed to be having a good old-fashioned time.
Disick was pictured partying alongside Brown, French Montana, Usher, A$AP Rocky, A$AP Ferg (all of whom were featured in the R&B singer's latest music video "Picture Me Rollin") and many more that evening. Though it remains unclear whether the father-of-three partook in any drinking, the event certainly goes against his efforts to steer clear of the party scene.
Article continues below advertisement
Since his 30 days of rehab, sources say Disick's baby mama Kourtney Kardashian "is proud of him, but she is always wary" –– and for good reason it seems!
To make matters worse, witnesses at the event say that pseudo-sister Kendall Jenner was also in attendance, but gave Disick the cold shoulder.
"Kendall and Scott saw each other, but didn't acknowledge one another," an insider told PEOPLE of the awkward run-in. "He walked right past her table and Kendall rolled her eyes."
These days, it seems the only Kardashian on Lord Disick's team is "momager" Kris. The family matriarch, 60, recently shared a selfie of the pair, calling Scott "one of the true loves of my life."
Sorry Scott, looks like you aren't out of the dog house just yet!