San Bernardino Shooting: Officer Describes 'Carnage' At Crime Scene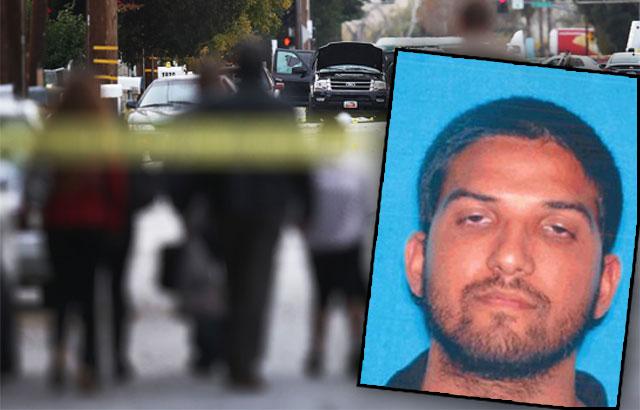 RadarOnline.com has all the latest in the deadly massacre in San Bernardino, California that left 14 people dead and 17 others injured, before police killed attackers Syed Rizwan Farook and Tashfeen Malik in a gun battle.
Search For Man Who Bought Rifles
As RadarOnline.com previously reported, Farook, 28, and his wife Malik, 27, opened fire during a holiday luncheon at Inland Regional Center Wednesday. Authorities speaking under condition of anonymity told the AP Thursday Farook legally bought the two guns used in the rampage in California in 2012, but another pair of rifles used in the ambush was purchased by another unidentified man. Officials did not specify how the weapons came into Farook's possession prior to the shooting.
Article continues below advertisement
'It Was Unspeakable, The Carnage That We Were Seeing'
San Bernardino police Lt. Mike Madden, the first police officer who responded to the shooting at the center, described his experiences in an emotional news conference on Thursday, recalling how he and fellow police bypassed victims in the attack in their efforts to capture and disable the shooters. Madden, a police officer of 24 years, said that officers "went further into the building and that was a difficult choice to have to make as well, passing people that we knew were injured and needing assistance; but our goal at that time had to be to locate the shooters and deal with them." The candid Madden explained the trauma he experienced in walking into the mass murder scene. "It was unspeakable, the carnage that we were seeing," he said. "They just try to throw everything at you to prepare you for dealing with that. What you're seeing what you're hearing, what you're smelling — and it was all of that and more." At the news conference, Police Chief Jarrod Burguan confirmed that 12 of the 14 murder victims, and 18 of the 21 hurt, were workers for San Bernardino County.
Watch the video on RadarOnline.com
Vigils & Gatherings
Thousands of people showed up for a vigil at San Bernardino's San Manuel Stadium Thursday, where mourners held candles as the names of the 14 dead were announced, later singing "God Bless America." Mayor Carey Davis said he "couldn't be more proud of our police department, fire department, our neighboring law enforcement that assisted in that event," urging those in attendance to "dedicate and commit ourselves to strengthen our families to overcome." Thirty miles away, in Chino, California, 200 members of the Muslim community were in attendance at a mosque for to condemn the shootings and pray for the victims. Amjad Mahmood Khan, the spokesman for the group, told reporters that "radicalization of Muslim youth is a problem," but said that the cause of Wednesday's events remain undetermined, and might not be linked to religious beliefs.
Watch the video on RadarOnline.com
Killer Stopped Showing Up At Mosque
Syed Rizwan Farook was a devout Muslim who prayed at the San Bernardino mosque Dar Al Uloom Al Islamiyah everyday up until three weeks ago, according to Nizaam and Rahemaan Ali, a pair of brothers who also attend the mosque. The brothers said that Farook was a regular at the religious facility since 2013, and told other Muslims that he had the Quran memorized. They said that they were shocked at the reports of the rampage, as they did not take him for a violent person.