Exclusive
Bravo Resorts To NeNe Leakes Stunt & Fakery To Save Ailing 'RHOA'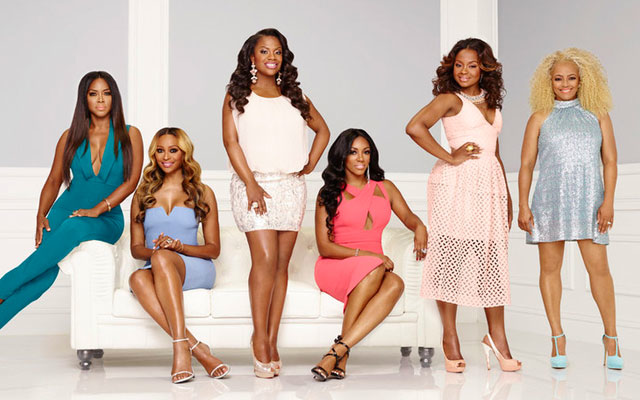 The Real Housewives of Atlanta continues to be one of Bravo's top franchises as Season Eight ratings climb week to week. But RadarOnline has learned that the series' behind-the-scenes drama is at a fever pitch, leading some insiders to question how long it can last!
"RHOA has been getting more viewers in the last few weeks because of the constant fighting," a source told Radar of Kim Fields and Kenya Moore's fight, which brought in a season record of 3.016 million viewers.
Article continues below advertisement
"This is new executive producer Carlos King's thing, he loves to push fighting!"
In addition, the source claimed RHOA producers have even gone as far as to push Porsha Williams and Moore to spice up their love lives if they want to stay on the show.
"Bravo told the single women, Porsha and Kenya, that you have to have a man to stay on the show," the insider claimed of the show's fakery to boost ratings.
"They said if you don't have a man on the show, you are not coming back, or you're going to be a friend of the housewives."
According to the source, the threat prompted Williams to bring on NFL player Duke Williams, while Moore began "dating" Eugene Casciaro.
While the fakery has proven successful for now, the source said the network worries the show's drama when cameras aren't rolling could cause a drop in ratings.
Article continues below advertisement
According to the insider, star cast member NeNe Leakes and Executive Producer Carlos King don't get along. King exclusively told Radar that reports of a feud with Leakes are "ridiculous," but the insider insisted that their dislike for each other caused her departure from the series.
"NeNe returned to film the cast trip in Jamaica and Carlos was unaware," the insider revealed. "He did not know and he freaked out. He's the reason NeNe refused to come back full time this season."
Meanwhile, RHOA vet Sheree Whitfield, who has a part-time role on the show, is also jousting with the producer, according to the source.
"Carlos and Sheree had a falling out over a TV deal that went bad," the insider said. "She's really pissed off about it."
With Leakes refusing to return and Whitfield on the outs with the producer, fans could expect a cast shakeup next season to ensure the show remains on top.
Indeed, as Radar reported, The Real Housewives of New Jersey: Teresa Checks In was plagued by low ratings, leaving RHOA the crown jewel of the network. And according to the insider, "They're trying to figure out what they're going to do. Bravo is going bananas."