Kim Fields Accuses Kenya Moore Of 'Instigating' Shereé Whitfield And Tammy McCall Browning's Feud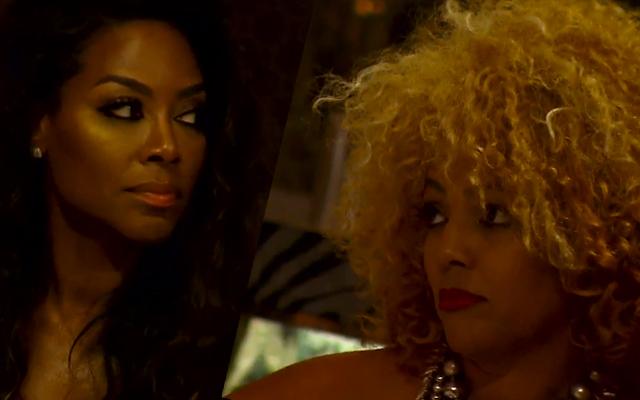 The Real Housewives of Atlanta ladies' trip to sunny Miami, Florida, took a stormy turn during Sunday night's episode, with Kenya Moore finding herself in the middle of yet another messy argument between her castmate Shereé Whitfield and RHOA newbie Tammy McCall Browning!
The trouble started when the girls first arrived at their mansion in Miami, with Moore informing Shereé that McCall Browning had some negative things to say about her marriage to her ex-husband, Bob Whitfield. During her chat with the other RHOA ladies in the room, Shereé expressed her shock over McCall Browning's statements about her and revealed that Browning may have slept with her ex during their marriage.
Article continues below advertisement
And once the ladies sat down for a group dinner later that day, Shereé wasted no time calling out McCall Browning for what she said about her.
"I didn't know you had a problem with me, which I should probably be the one with the problem," Shereé said, hinting at her claims that Browning slept with her ex.
McCall Browning attempted to explain herself, saying that she just wanted to protect Bob, seeing that they are good friends. But Shereé continued to question her intentions with what she said about her, and eventually went on to ask specifically if McCall Browning had ever had a sexual relationship with her ex-husband!
McCall Browning denied that she ever hooked up with Bob. But as the tension continued to grow between the two, the rest of the RHOA ladies attempted to diffuse the conversation.
"Who told you that she said she didn't like you? Who told you that?" Porsha Williams asked Shereé. "Kenya," Shereé replied as she pointed her finger at her castmate.
"No, I didn't specifically say that. I told you exactly what she was saying. I gave her the information. That's all," Moore said. "What she said was she didn't want Bob to marry Shereé."
Article continues below advertisement
But by that time, Kim Fields had already had enough of the drama. "How old are we that we talking about I didn't think she didn't like you? Are we grown ass women talking like this," she said.
Cynthia Bailey then jumped into the chat, encouraging McCall Browning to move on from her issues with Shereé.
"I felt like you guys can squash it because it's old stuff. And your whole impression of her was just based on your friendship with Bob and just being protective of that friendship," she said. She added that it likely "wasn't anything personal against her."
Kandi Burruss then offered her take on the situation, saying that what she heard McCall Browning said about Shereé was obviously stated in a "negative" manner.
"Even the things that you agreed to that you said, that coming back was negative. If it came back to me that it was said to me that way, I would have taken it negative too. I don't know any positive way to take it," she said. And in her confessional, she admitted that she believed Moore's claims that McCall Browning said something rude about Shereé and that "this time" Moore "got it right."
Article continues below advertisement
However, Fields wasn't as impressed with Moore sharing McCall Browning's comments with Shereé, tossing a major diss at her castmate!
"Does it feel like there's a difference between information and instigation?" Fields questioned.
"Are you talking to me? I'm sorry," Moore replied to Fields. But when Moore added that she thought Fields was singling her out, the actress let her know she was actually "talking to the room" with her slightly shady statement!
The ladies continued to discuss Shereé and McCall Browning's issues for a brief moment before deciding to drop the topic as they wrapped up their dinner.
During the rest of the episode, the ladies bonded during a second — and less dramatic — group boat trip. And Phaedra Parks gave Fields a little support after she broke down into tears while sharing how much she missed her husband and children during the girls' getaway.
During their chat, Parks also talked about her heartbreak over her estranged husband Apollo Nida's incarceration!
You can catch the latest episode of The Real Housewives of Atlanta on Sunday at 8 p.m. EST on Bravo.