Inside Steve Harvey's Meltdown Over Miss Universe Mess-Up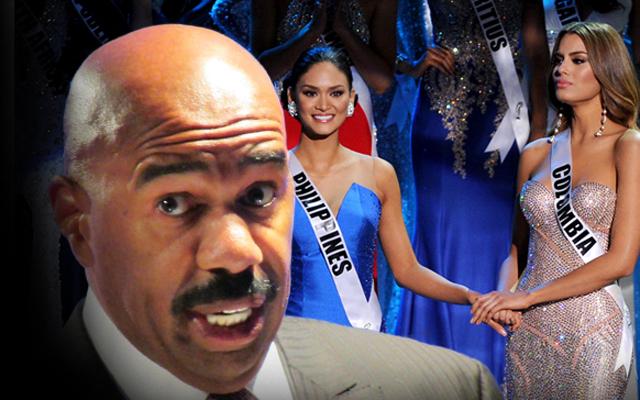 It's a moment that will go down in TV history — and for all the wrong reasons! When Steve Harvey mistakenly announced the Miss Universe pageant's first runner-up, Miss Colombia, as the overall winner instead of Miss Philippines last night, criticism was swift. Now, RadarOnline.com has learned exclusively how the humiliating moment unfolded.
According to a pageant insider, "Steve was hired to host the pageant at the last minute, just days before the pageant taped," and he didn't give himself enough prep time.
Article continues below advertisement
Why the delay?
"Steve actually passed on hosting this pageant twice this year before asking for a pie-in-the-sky fee and expecting the organizers to walk away," the source claimed. "But they eventually paid him a fortune for hosting. The problem was Steve had little time to get ready for the job and not a lot of experience hosting this particular type of event."
"And after this weekend, it's not likely that he'll ever be asked again, either!" the source added.
As RadarOnline.com reported, Ariadna Gutierrez, Miss Colombia, had a few moments in the crown before Harvey cut in, "I have to apologize," announcing that the true winner was actually Miss Philippines, Pia Wurtzbach.
Watch the Video on RadarOnline.com:
Later, an obviously horrified Harvey took to Twitter to apologize for the mistake.
"I want to apologize emphatically to Miss Philippians and Miss Columbia," the show host shared, misspelling country names in the process. "This was a terribly honest human mistake and I am so regretful." He later fixed the spelling errors:
Meanwhile, true runner-up Gutierrez took the defeat graciously, sharing on Twitter: "Everything happens for a reason, so I'm happy."