Exclusive
Charlie Sheen's Former Fling Claims His HIV Cover-Up Ruined Her Life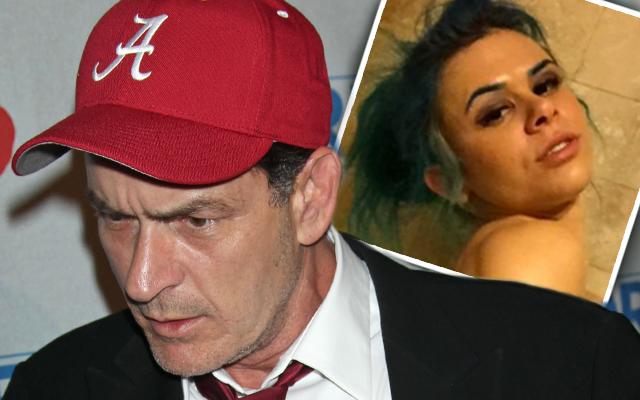 Hooking up with Charlie Sheen was once a lofty aspiration for women in the adult film industry. But after he announced his HIV status, some are regretting their decision to become "goddesses." Now, one woman, Elizabeth "Sara" Bentley, tells RadarOnline.com that her association with Sheen has ruined her life!
A former porn star, Bentley claimed last month that she had sex with 50-year-old Sheen on several occasions but didn't know his HIV status during their time together. Not long after, she shocked fans earlier this week, when she threatened to commit suicide during a disturbing Periscope video.
Article continues below advertisement
She was later found safe, but Bentley told RadarOnline.com in an exclusive interview that she wishes she never spoke up about Sheen.
"Because I told the truth about Charlie Sheen my career is over," she told RadarOnline.com. "My life is over."
Her boyfriend even dumped her over the news, she claimed: "He left me because of Charlie."
"I lost the love of my life. I've been blacklisted from the adult industry," she said. "I want to die every single day because of this bullsh*t."
"I don't want to be in the public eye ever again because I lost the love of my life because of it."
A source close to Sheen, 50, insisted, "She never dated Charlie Sheen. She was a paid companion. And she's not HIV positive. I'm sorry she threatened to commit suicide but maybe she should get counseling and stop trying to blame other people."
But another Sheen ex, Rachel Oberlin, aka Bree Olson, said Bentley was on the road to recovery.
"She is okay as in physically okay," Oberlin confirmed. "I'm so glad that she reached out and talked with me."
"This goes to show people how much this has affected people," Oberlin continued. "This poor woman has been completely victimized and ostracized to the point where she felt she had no way out other than to end her life."
If you, or anyone you know, is struggling with thoughts of suicide, please immediately seek help — you can speak with a skilled, trained counselor at a national Suicide Prevention Lifeline crisis center in your area, anytime 24/7 — call 1-800-273-TALK (8255).