Exclusive
Apollo Exposed! Stripper Claims Night Of Booze & Drugs With Nida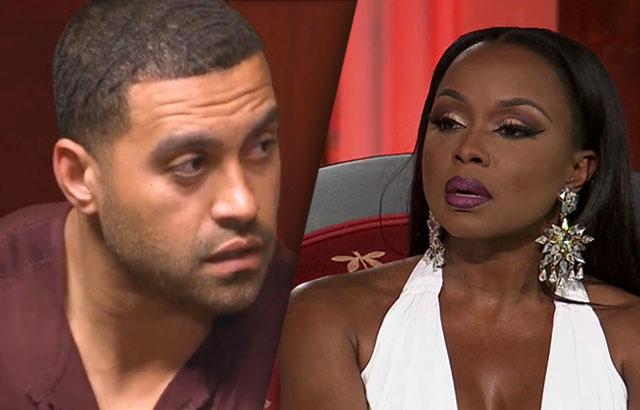 One year after Phaedra Parks said she was divorcing Apollo Nida, The Real Housewives of Atlanta star still hasn't filed. But RadarOnline.com has learned one Atlanta stripper has come forward with claims about Parks's imprisoned husband that could be the last straw!
A self-described "nude exotic dancer," Cashaun Sidney, describes a raunchy night with Nida in 2014 — when he was still living with Parks — in her new book, Sordid Panties: Celebrities, Thots, Money & Scandal.
Article continues below advertisement
Sidney claims she met Nida, 37, through a mutual friend in "late 2014" at Atlanta strip club Follies, before he headed to prison to serve time on fraud charges.
"He drove up with his brother, Michael, and they escorted us and two other young ladies into the club," she claims in the book. "We entered the bar and had a few drinks and Apollo asked us if we wanted to go to Lenox Mall, a popular mall in Atlanta that held some of the most high-end stores in the city. Of course we were game."
"We went to the mall and later as we were sitting in Bloomingdales, Apollo asked us if we wanted to accompany him to a night club where he would be heading later to meet up with a few other celebrity friends of his. We obliged."
"We went back to his home to get dressed ..." she writes. "It was evident that his wife was not in town."
Parks, now 44, was nowhere to be seen, but signs of her were everywhere, according to Sidney: family pictures and merchandise related to her Phine Body fitness program.
Article continues below advertisement
"Inside the house I started rolling the blunt of pot and just kept my mouth shut as I looked around the woman's house in awe," she writes. "I couldn't believe in were in Phaedra's house."
An obliging host, "Apollo poured shots of tequila for us and we proceeded to the back of the house where we sat by the pool and smoked the pot."
"After smoking pot, we went back into the house to prepare for our night out," she says. "We walked up stairs and he escorted us into the baby's room. Yes the baby's room of all the rooms. He asked my friend if she wanted to take a shower in the baby's bathroom and she said yes...." (Nida is dad to sons Ayden, 4, and Dylan, 2.)
Sidney left the room but Nida and the pal stayed there for a while, she claims. "Were they both in the baby's room taking a shower?" She admits, "I don't know."
But the incident left an impression: "Apollo was more a thot if not equally thotie as my home girl," she insists. (Per Urban Dictionary, "thot" is a synonym for "wh*re.")
Parks announced she would be divorcing Nida on December 22, 2014, not long after Sidney claims the incident took place.