Goldie Hawn Flashes Diamond Engagement Ring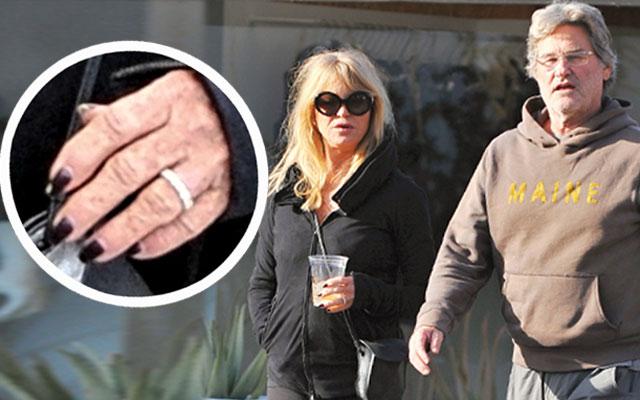 Here comes the bride? Goldie Hawn flashed a diamond-encrusted band on her ring finger while out and about with her longtime partner, Kurt Russell.
The 70-year-old actress showed off the impressive sparkler on Saturday while out grocery shopping and having lunch with Russell, 64, in Brentwood, Calif.
The happy couple is rumored to be taking a walk down the aisle after over 30 years together, despite insisting in the past that they don't need a marriage to validate their long relationship.
Article continues below advertisement
"A lasting relationship isn't about marriage," Hawn recently noted. "It's about compatibility and communication. And you both need to want it to work. If one person does not want it to work, it isn't going to work. Intention is the key."
According to one report, the pair is considering a Wild West-themed celebration over New Years at their Aspen ranch, where their families gather every year to celebrate the holidays.
Do you think Goldie and Kurt should walk down the aisle, or is their relationship just fine the way it is? Sound off in the comments below.