Charlie Sheen: 'I'm Here In Fact To Admit I'm HIV-Positive'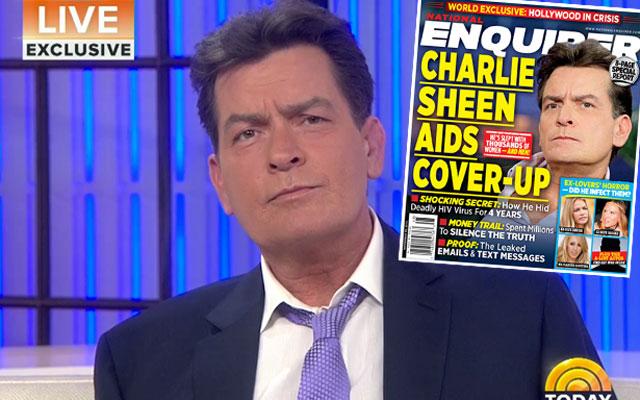 Charlie Sheen confirmed he has the HIV virus, speaking with Matt Lauer on the TODAY show Tuesday, as he said, "I'm here in fact to admit I'm HIV-positive."
The 50-year-old Sheen told Lauer he was diagnosed four years ago after suffering from a series of migraines that left him sweating the bed at night.
"It's a hard three letters to absorb — it's a turning point in one's life," he said.
Sheen said he came public with his status in order "to put an end to the onslaught attacks of sub-truths very hurtful and … that couldn't be father from the truth."
Article continues below advertisement
As the National ENQUIRER was first to report, Sheen's health status "open secret" for years in the show biz community, and that the second-generation star's "worst fear is that he will be remembered not as a great actor, but as someone who contracted the disease."
Insiders said that the Major League star "took no precautions ... even though he was indulging in high-risk sex practices," thinking he "was indestructible."
The shocking revelation is the latest chapter in the actor's turbulent career, more than four years he was fired from TV's highest-paying acting job as the star of Two and a Half Men after a major falling-out with the show's creator Chuck Lorre. Following his dismissal, Sheen went on
More than 1.2 million people in the U.S. are living with HIV or AIDS. If you are worried about HIV, get in touch with the Centers for Disease Control and Prevention.