Amy Duggar & Husband Mock Josh Duggar Sex Scandal Online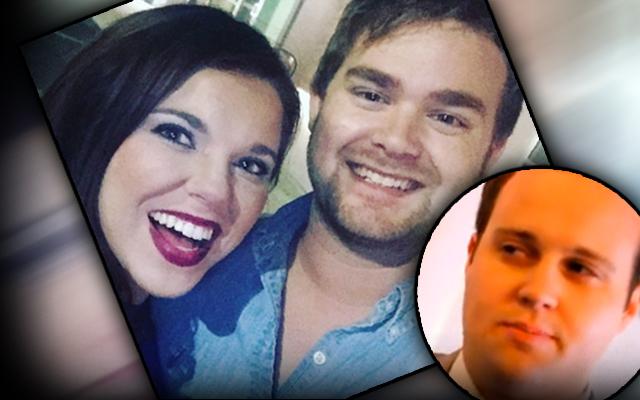 Amy Duggar and her husband Dillon King are cracking up over her family's notorious sex scandals.
The couple was watching the Country Music Awards from their Arkansas home last night, and caught hosts Brad Paisley and Carrie Underwood name-dropping Amy's disgraced cousin Josh on stage.
After joking about this year's Ashley Madison hacking crisis, Paisley sang, "Your cheating side will tell on you…Josh Duggar!"
Article continues below advertisement
In a bold move, King, 27, caught the moment on his phone and uploaded it to his Instagram page.
"@bradpaisley you are the man!!! #bestthingever," he captioned the clip, which was promptly deleted after posting. (Perhaps patriarch Jim Bob had a few choice words with his new nephew-in-law!)
Amy, 28, also responded to the shocking CMA moment with applause.
"Woah @BradPaisley, wasn't expecting THAT!!!" she wrote. "Laughing hysterically."
In another dig at father of four Josh, who is currently receiving treatment for his sex addiction in a Bible-based rehab center, Amy mentioned that she watched fictional crime series Law & Order: SVU— which aired an episode based on her famous family's scandals!
On last night's Duggar-inspired show, detectives fear a 13-year-old daughter of a Jim Bob and Michelle-like Christian couple was impregnated by her older brother.
Article continues below advertisement
It may have hit close to home for Amy.
As RadarOnline.com readers know, a bombshell report in May revealed that Josh, 27, had been investigated for molesting at least two of his younger sisters as a teenager.
Three months later, he was exposed as a member of affair-seeking website Ashley Madison. He confessed to being "the biggest hypocrite ever," and admitted to cheating on his long-suffering wife Anna.
In a shocking twist, porn star Danica Dillon came forward, claiming to have had rough sex with Josh for cash in a seedy hotel room.