Dying Val Kilmer Refuses Treatment For Throat Tumor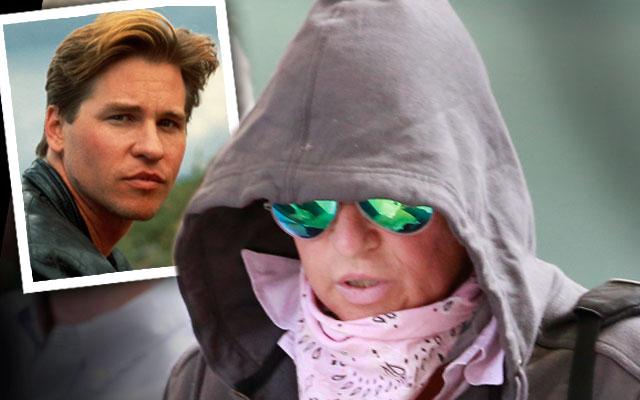 Decrepit Val Kilmer continues to refuse treatment for his terminal throat condition while medical experts are already planning end-of-life care for the actor, RadarOnline.com can exclusively confirm.
Insiders said the Christian Scientist is mainly trying to "talk" and "meditate" himself back to health instead of taking an aggressive medical route.
Recently, though, an eyewitness revealed that the "Top Gun" star, 55, was checked into UCLA Medical Center in late October under the name "Oscar Davis."
Article continues below advertisement
"Kilmer could barely speak as he was wheeled through the ICU on a gurney," the insider said while mentioning that the star was hooked up to a tracheostomy tube and other machines.
RadarOnline.com previously reported that doctors found the tumor after Val was suddenly hospitalized on Jan. 26.
His mom, Gladys Leach, confirmed that her son had a throat tumor and tracheotomy.
Despite the overwhelming evidence of his health crisis, the actor continues to downplay his condition and recently told Facebook fans: "There's a rumor I'm unwell again and in the hospital, which is totally untrue. I was in to verify I have no tumor or infection of any kind."
However, a friend of Kilmer insisted the star is in serious denial: "Sadly, I don't think anything will save him now!"