Travis Barker & Shanna Moakler: MTV Show 'Destroyed' Our Marriage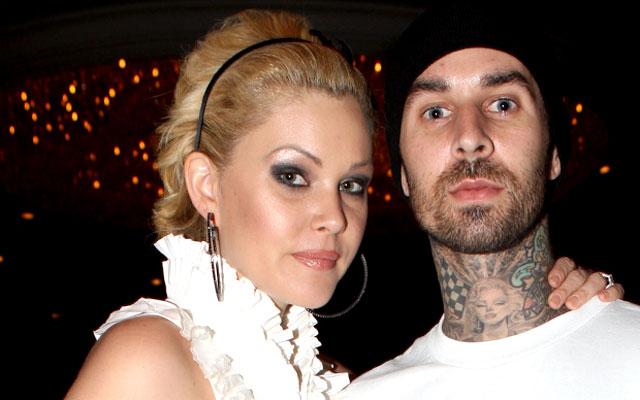 Former spouses Travis Barker and Shanna Moakler have a long, tumultuous history involving fistfights, police calls and cheating accusations— but they can pinpoint the moment the marriage first headed downhill.
In his new memoir Can I Say, Barker and his guest writer ex-wife, 40, both blame their divorce on deciding to film Meet The Barkers, their MTV reality show that ended after two seasons in 2006.
Article continues below advertisement
"I think the show destroyed our relationship," Moakler writes in a chapter about the show, citing the Blink 182 drummer's fear of losing his rocker identity. "I think he was afraid he was going to be looked on as a reality star. So when the cameras stopped rolling, he distanced himself from me in every way that he possibly could."
However, the 39-year-old father of Moakler's youngest children Landon, 12, and Alabama, 9, has another take on how the series doomed the romance.
"I felt like having the reality show changed Shanna's character. Shanna wanted to be an actress, and I felt she started doing things just for the cameras— for attention, or maybe it was just her dramatic personality," Barker confesses. "It was turning into a variety show instead of a reality show— and in my mind, she was behaving out of character on camera, which was carrying over to her not being genuine with me."
Article continues below advertisement
Barker adds that he pulled the plug on Meet The Barkers due to the "toxic" energy.
The couple first separated in 2006, just two years after their October 2004 wedding, but frequently kissed and made up between explosive splits.
As RadarOnline.com exclusively revealed, Barker accused Moakler of going through his emails during a long hospital stay following his 2008 plane crash that left two friends dead.
He also claims Moakler attacked his then-girlfriend Paris Hilton in a nightclub.
Despite the endless drama, Moakler calls Barker "a phenomenal father," while he admits she and her daughter Atiana, 16, are "still family."