Juicy Joe Tells All! Teresa Only Making $1 Dollar A Day In 'Easy' Prison Job — 'She Wants To Be Home'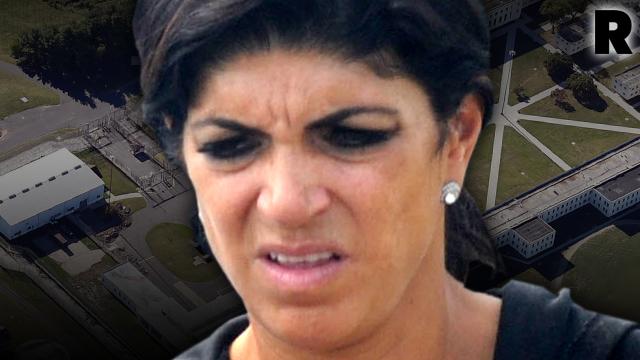 Teresa Giudice's days in prison are coming to an end but her husband is opening up about the tough time she's had for the past ten months, including details about her low paying job and the heartbreak she suffers watching her children leave after visits.
"Teresa is holding up. I can't say she's doing great but she looks good," revealed Joe Giudice to Entertainment Tonight. "She keeps her spirits up and tries to make us feel like she's OK, but she's really not. She wants to be home."
Article continues below advertisement
The Real Housewives of New Jersey star was the highest paid member of her franchise, pulling in $750,000 per episode, but her job while locked up is paying her next to nothing, her husband claims.
"She says she's got an easy job, she likes it, she doesn't want to change," Joe revealed. "I think she wipes down a couple tables a day. She's done within three minutes and that's her job. I think she's making a dollar a day..."
But the toughest part of getting locked up for Teresa has been watching the suffering of her four daughters, Gia, 14, Gabriella, 10, Milania, 9, and 5-year-old Audriana.
"Whenever we get there, Milania is just like, 'Mommy why can't you just come home? Why don't you just get up and leave?' and Teresa is like, 'Soon baby soon,'" Joe said.
"Audriana doesn't really say much about it but she cries sometimes," continued Joe. "In the beginning, she used to cry and now she's getting kind of used to it. Now she just goes, does her thing, plays with the other kids, and then we just go home… I'm sure it's killing my wife when we all leave."
And once they're gone, Joe said Teresa is "keeping herself busy, just working out. What else is she going to do in there? Read. Working out. Eat. Email."
The family will share their experiences of what it's been like to have Teresa behind bars in a new three-part special The Real Housewives of New Jersey: Teresa Checks In, premiering on Bravo this Sunday, Oct. 11.
What do you think about Teresa's prison life? Sound off in the comments below.