Taylor Swift: I Was Sexually Assaulted – And I'm Suing!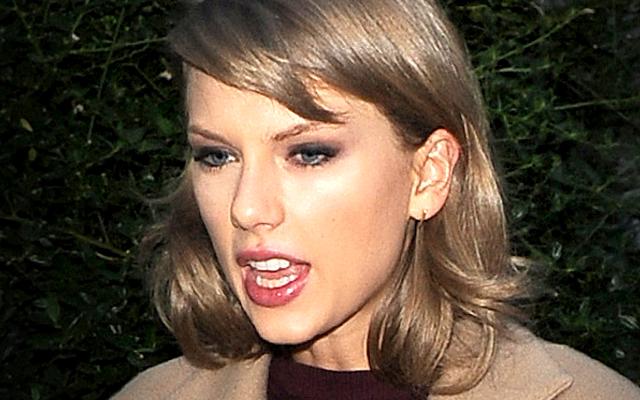 Taylor Swift has filed suit against a radio disco jockey accusing him of assault and battery, claiming the man "groped" her backstage at a meet and greet. Now, RadarOnline.com has exclusively obtained the documents where she demands that the court award her damages for the humiliation she says he caused her.
Previously, a former radio DJ named David Mueller filed suit against Swift and her team accusing them of getting him fired from his job. Mueller explained in his complaint that he has been working in the radio business for over 20 years. He said he had been working for the Colorado country music station 98.5 KYGO since 2013.
Article continues below advertisement
Mueller said that his bosses informed him and his co-host, Ryan Kliesch, that he would have to attend a meet and greet at Swift's concert on June 2, 2013. The radio DJ was allowed to bring a guest to the concert and he brought along his girlfriend to the show.
He said that he eventually went backstage to meet Swift. During the meeting, he claimed that both he and his girlfriend complimented her and then took photos along with receiving autographs. He said the interaction went great and the singer "remained pleasant as she bid them goodbye."
Then later on in the night Mueller said he ran into a co-worker who bragged that during his meet and greet he put his arms around Swift and grabbed her butt during the photo op.
Things allegedly took a turn for the worse when the singer's bodyguard approached Mueller later in the night and accused him of grabbing Swift's butt when they took their photo. He said he was then kicked out of the venue and eventually his bosses fired him for the allegations by Swift's people. He filed suit demanding unspecified damages.
Article continues below advertisement
But according to new court documents obtained by Radar, on October 28 Swift fired back at Mueller's lawsuit. She admits that she took a photo with Mueller and his girlfriend the night of her concert.
However, the singer says that Mueller, and NOT his co-worker, was the one who "improperly and inappropriately groped" her when taking a photo. She says that her security team correctly accused Mueller. Swift also states that the accusations by the radio DJ that his co-worker was the one who touched her are lies.
"Mueller's newfound claim that he is the 'wrong guy' and, therefore, his termination from KYGO was unjustified, is specious. Ms. Swift knows exactly who committed the assault – it was Mueller – and she is not confused in the slightest about whether her long-term business acquaintance, Mr. Haskell, was the culprit," the documents state.
Taylor says that Mueller engaged in wrongful and unconscionable conduct and assaulted her during the meet and greet backstage. She says that at no time was she aware of Mueller's contract with the radio station and did not interfere with his employment, despite him allegedly groping her.
Article continues below advertisement
The lawsuit claims that she stands by her statements about Mueller's actions that night because they are accurate and truthful.
The documents state that her goal in filing a lawsuit "will demonstrate that Mueller alone was the perpetrator of the humiliating and wrongful conduct targeted against Ms. Swift, and will serve as an example to other women who may resist publicly reliving similar outrageous and humiliating acts. For this reason, any recovery obtained by Ms. Swift will be donated to charitable organizations dedicated to protecting women from similar acts of sexual assault and personal disregard."
Her counter-suit states that Swift was surprised, upset, offended and alarmed that the radio DJ had lifted her skirt and groped her bottom during their photo op. She says that the event caused her extreme anxiety because she did not know that a man she didn't know would grope her private and intimate body parts during an event that she opened to her fans and radio hosts.
Swift's documents detail the assault, stating: "In the course of his meet and greet with Ms. Swift, Mueller intentionally reached under her skirt, and groped with his hand an intimate part of her body in an inappropriate manner, against her will, and without her permission. Mueller did not merely brush his hand against Ms. Swift while posing for the photograph: he lifted her skirt and groped her."
Swift says following the incident she was forced to begin a several-hour concert for 13,000 fans while still distressed about being assaulted.
Swift is suing for assault and battery against Mueller, and is asking the court to award compensatory and punitive damages for his actions.
What do you think about Taylor Swift's lawsuit claiming she was sexually assaulted? Sound off in the comments below.