Briana Gunvalson Says Mother Vicki's 'Filth' Ex Brooks Hit On Her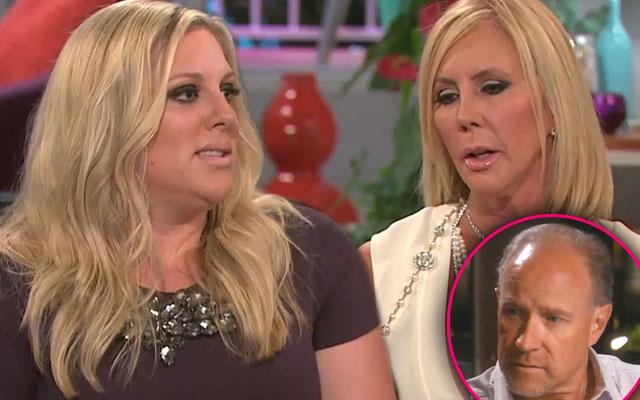 Things are heating up on the Real Housewives of Orange County Reunion! In part two, the season's most OMG-worthy moments are highlighted: sex tapes, leeches and sharks –– to name a few.
But things get serious when the ladies of the OC remember how hard reality TV can be on their relationships. From Heather Dubrow's strained schedule with Botched star hubby Terry, Vicki Gunvalson's breakups with ex-husband Donn (in earlier seasons) and recent boyfriend Brooks, and finally Shannon Beador's road to recovery marriage to husband David, no one is safe from relationship stress.
Article continues below advertisement
Perhaps one of season 10's most memorable feuds, Andy Cohen welcomes Meghan King Edmonds' husband, Jim, to weigh in on the show and not wanting to be a part of any of the drama.
"You get a portrayal of something that really isn't you," the former St. Louis Cardinal replies, referencing Vicki's big blowout against the allegedly-unstable couple. "I got sucked in to the drama and I wasn't okay with it."
"Those instances that you see were real and I'm not proud of it, but over all, that's not our marriage," Meghan adds.
When asked if he really told Brooks that their marriage wasn't going well, Jim says that conversation never happened.
"I want to apologize," Vicki chimes in, sharing that she was misinformed when she gossiped about what Brooks had learned, hollering after Jim and Meghan to say that their marriage wouldn't last five years.
Article continues below advertisement
Heather turns on Vicki as well, confronting her for poking fun at Tamra Judge's heartbreaking custody battle during the very same episode.
Watch the Video on RadarOnline
Later on, the attention is turned to Shannon's difficult journey to repair her marriage.
"Shannon you really went through a rough time this season," Andy says, asking why she believes David had an affair in the first place.
Getting emotional, Shannon replies: "I was nagging and complaining thinking I could get what I want, my husband was working and unavailable … I wanted to be connected to him."
"I feel like you're making excuses for him," Heather shakes her head.
"You're the victim, not David," Tamra agrees as Shannon remains silent.
But now, Shannon insists that the couple is better and happier than ever, especially thanks to their courageous choice to televise the whole ordeal.
Then, Vicki's daughter, Briana Gunvalson, joins the RHOC stars for the reunion special, throwing major accusations at Brooks.
Article continues below advertisement
"He would do something terrible when my mom was across the room," Briana explains of her experiences with Brooks. "He even hit on me when I was pregnant at a family birthday party."
"Briana called me right after," Tamra verified the story. "She was upset and absolutely degraded."
Watch the Video on RadarOnline
When Andy reveals a recent interview with Brooks, during which the controversial ex blames Vicki's daughter for any and all turmoil, Briana throws in the towel.
Watch the Video on RadarOnline
"F**k this guy, I'm done," Briana yells. "He is filth."
Despite all of the accusations, when asked why the couple finally broke up, Vicki remains vague.
"There are a lot of reasons...he's the one that actually said 'I'm done,'" Vicki shares. "We had too many issues to make it a life mate and we knew it was never going to be a longterm thing."
Stay tuned for part three of the Real Housewives of Orange County next Monday at 9/8c on Bravo.