'RHOC' Reunion Part 1 -- Tamra Judge Slams Ex Simon Barney For Turning Estranged Daughter Sidney Against Her: 'It's Humiliating'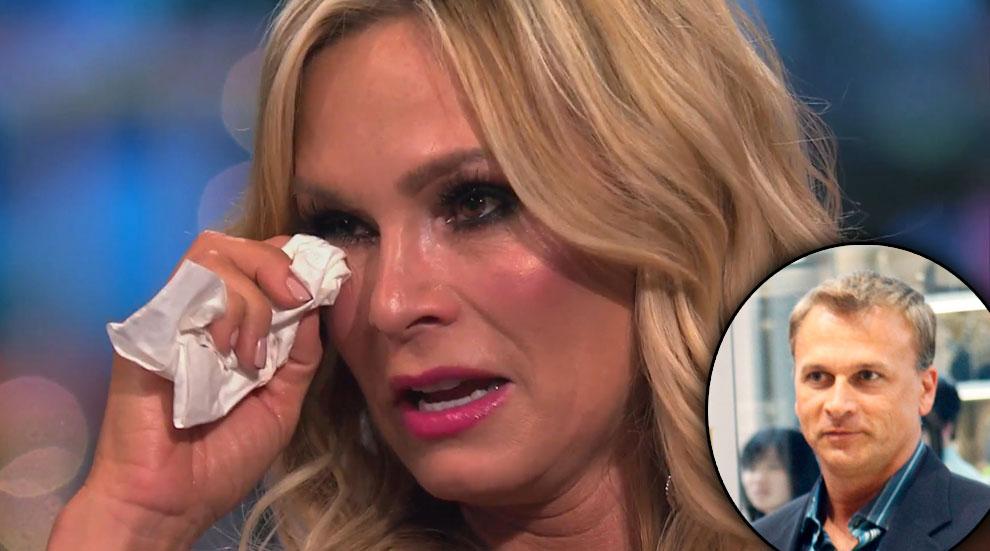 Lies, crying and confrontation: the season 10 reunion of the Real Housewives of Orange County is here!
Andy Cohen kicks off the night, showing no mercy as he digs into Vicki Gunvalson's ongoing feud with newcomer Meghan King Edmonds.
After criticizing Meghan's parenting techniques with step-daughter Hayley throughout the season, Vicki insists that she stands by her opinion of the OC newbie despite any defense on Meghan's part.
Article continues below advertisement
But soon after, the attention turns to the tragic and unexpected loss of Vicki's 83-year-old mother early on in the season.
"Nothing was more real than when Vicki's mom passed away," Andy comments as Vicki holds back tears. "I'm sure you miss her every day."
"It's actually gotten worse," Vicki cries in response. "The void has gotten worse...I need my mom."
When asked if she regrets airing the episode that shows her receiving the hard news – during a girls' party no less – Vicki insists she has no regrets.
"I kind of blacked out, so when I saw it again, I don't even remember the drive home," she recalls. "I was in so much shock, and I wanted to call my mom...and I couldn't. But everyone was great about it from Bravo."
"It's chilling for me to remember the sounds coming from Vicki that night," Shannon Beador adds, remembering her discovery of a distraught Vicki in her craft room.
Of course, as RadarOnline.com previously reported, Vicki now blames her costars for abandoning her in a time of need. Before season 10's finale aired, the original cast member announced her split from controversial boyfriend Brooks Ayers, slamming her once pals for "not being there."
Article continues below advertisement
As for Shannon's infamous feuds, the reality star's icy relationship with Meghan at the start of the season remains memorable. Flashbacks also remind viewers of Meghan's "judgy eyes" comment at Shannon's expense.
"Meghan you seem very confident, have you always been so?" Andy asks, to which coyly Meghan simply reminds her costars that her last name is appropriately King.
But the two divas say a turning point occurred after Shannon offered to help Meghan seek medical help for husband Jim's ex-wife and her battle with cancer.
Watch the Video on RadarOnline:
Tamra Judge's season 10 journey is also highlighted during the first reunion segment, as flashbacks feature the young grandmother's emotional baptism, "getting her groove back" after struggling through a nasty court battle with ex Simon Barney. "Something I've never talked about," Tamra shares in a shaky voice. "My oldest daughter Sidney was at her dad's and she told me 'I don't want to live with you anymore. You ruined my dad's life.' And for her to come and say that, I have no idea where that came from." "She left that day and two years later," she continues. "She hasn't come back. She never talked to me again." Then, getting emotional, Tamra cries: "I fought so hard to get her help. To go to court, to get therapy. The whole family is so separated. When your child turns their back on you, it's humiliating." "When Simon sees this I'm assuming you will hear about it," Andy comments. "I don't care," Tamra blurts out. Watch the Video on RadarOnline:
Article continues below advertisement
But not eveyone is happy over Tamra's religious transformation.
Former RHOC cast member Alexis Bellino, who Tamra once called "Jesus jugs," emails Andy to share that she "cannot sit back and watch a mockery be made of my savior," calling out her nemesis' "manipulative ways."
"All I can say to her is, I'll pray for you," Tamra sighs. "And if she were a good Christian, she probably wouldn't be judging me."
Stay tuned for part two of the Real Housewives of Orange County next Monday at 9 pm EST on Bravo.