'How Dare You!': Shannon Beador & Vicki Gunvalson Go Head-To-Head On 'RHOC' Finale –– Watch The Dramatic Conclusion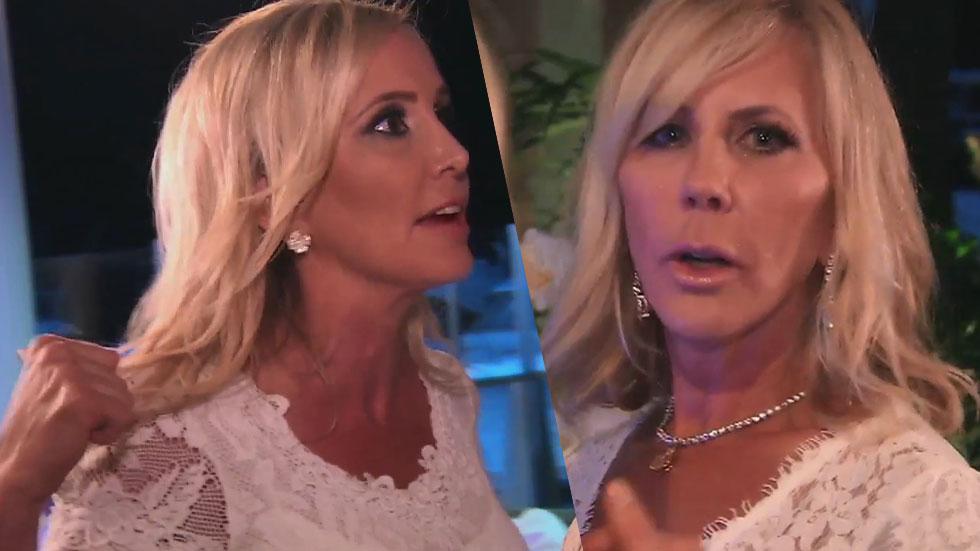 On the season finale of The Real Housewives of Orange County, the 'Wives, friends, and family gathered to watch Tamra Judge's emotional baptism, but tensions boiled over when former besties Vicki Gunvalson and Shannon Beador went head-to-head in their ongoing feud.
As guests arrive to celebrate Tamra's big day, Vicki admits she's on high alert since her co-stars -- namely newcomer Meghan King Edmonds -- have been digging into boyfriend Brooks Ayers' alleged cancer, which they suspect to be a lie.
Article continues below advertisement
But first, the ladies of Orange County turn their attention to the reverent day ahead. Before taking the plunge, Tamra dedicates a little speech to her friends, getting emotional about her decision to turn over a new leaf in her roller coaster life.
"I am not perfect, I know I'll never be perfect," she cries to her guests. "But I'm happy to say that what was once my mess is now my message."
A hired choir sings a beautiful a capella rendition of "Amazing Grace" as Tamra rises from the water. The 'Wives soon find themselves emotional as they congratulate their newly-baptized pal.
Watch the video on RadarOnline.com
The party then travels over to a nearby restaurant, where the drama starts to simmer.
"I'm angry at Vicki, so I'm not going to make an effort to talk to her and throw myself into the lion's den," Shannon shares in confessional, expertly avoiding any conversation with, or concerning, her one-time confidante.
But soon after, Heather Dubrow blows one of Brooks' lies wide open, telling Meghan and Shannon that he claimed he had called Heather's husband Terry, a renowned doctor, for advice on his agonizing chemotherapy treatment.
Article continues below advertisement
"That is a bald-faced lie," Heather tells her friends in a hushed tone before calling over Terry to confirm that he never received a call from Brooks.
"It feels wrong that there's all this tension between us and Vicki," Meghan sighs, making her way to Vicki for some major pot-stirring. "I think that she's nervous about confronting questions we all have."
Though Vicki attempts to avoid any confrontation and leave the party, Shannon unleashes on her after finding out that Vicki told friend Ronda about husband David's affair.
"I feel betrayed that Vicki would tell her brother and her brother's girlfriend about my affair," Shannon, now suspicious and exasperated, shares. "Ronda followed instructions from someone named Vicki."
"I don't blame Ronda for snapping back because Shannon was pushing, pushing, pushing," Vicki reveals in confessional.
Watch the Video on RadarOnline
Then it's Vicki's turn to answer the tough questions.
Article continues below advertisement
"How dare you! I've been nothing but a friend to you," Shannon goes on the offensive. "I'm done with you dragging me into this!"
"Don't wave your hand at me," Vicki snaps back. "I was there for you, when nobody else liked you."
The women shout and bicker until Vicki finally has enough, making her way to a nearby limousine.
"You are dragging me into a story Vicki, which doesn't make any sense," Shannon calls after her.
"Because you don't know it," Vicki shouts before storming off into the car, adding, "I don't care anymore."
Watch the Video on RadarOnline
As RadarOnline.com previously reported, after four years together, Brooks broke up with Vicki, moving to Florida as she continued on in Orange County.
Can Vicki Gunvalson and Shannon Beador get back on the same page? Sound off in the comments below!
Stay turned for the The Real Housewives of Orange County reunion, airing soon on Bravo.