Forgotten Housewife Lizzie Rovsek Slams 'RHOC' Vicki, Shannon, & Meghan Over Lies, Affair, Cancer Drama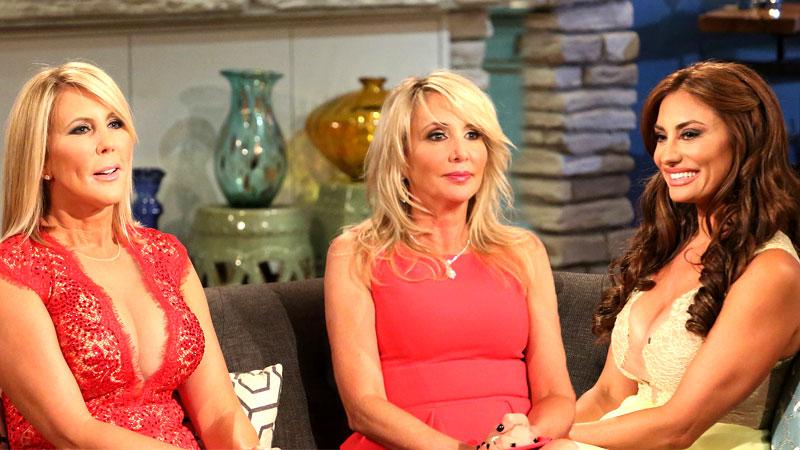 After sitting back and watching the drama unfold as a "friend of the housewives" on this season of the Real Housewives Of Orange County, Lizzie Robsek is finally speaking up -- and slamming her cast mates for their shady lies!
"I wasn't going to write a blog this week," Rovsek said on her Bravo page. But when she "woke up to Meghan Edmonds causing drama on Twitter," she explained that she changed her mind. "Edmonds 'fact checking' and doing a roll call for everyone that knew of David's affair. It really rubbed me the wrong way.
Article continues below advertisement
Rovsek took exception, not only to Edmonds social media activities, but also to the cast's lack of recognition for her compassionate friendship and strict adherence to girl code. "First off, I was a 'friend' this season. I understand why now, because I'm actually a great friend," she quipped. "Shannon Beador hasn't acknowledged the fact that she confided in me about the affair and says that only Vicki, Heather, and Tamra knew. That's not true, and perhaps she said that because she was only referring to the main Housewives," she surmised. "For the record, I never heard a 'rumor' about it and if I did I wouldn't believe it. I don't believe in rumors."
As if going unacknowledged by Beador was not bad enough, Vicki made the problem worse by insinuating that nobody else had Shannon's back through what, as RadarOnline.com has reported, has been quite a difficult cheating scandal with her husband. "Hearing Vicki tell Shannon that she was there for her when no ones else was, was very hurtful to me. I was there. I have been a great friend to Shannon and anything that she confides in me I don't breathe a word about. I defended Shannon all season. I think it's great that she has a new found friendship with Heather and Tamra, but I was there all along. I still am."
Article continues below advertisement
Rovsek was also disgusted that her cast mates ruined Tamra's baptism by bickering over Cancer rumors. "I feel really bad that this beautiful event became more about Brooks'Ayers cancer debacle," she lamented. "I don't 'fact check' my friends... If Brooks is lying about something as serious as cancer he will have to suffer because of it. We all sin and we all suffer for our sins, no matter the magnitude."
Still even Rovsek admitted that she has her doubts about Ayers' cancer claims. "Do I think he is lying about cancer? I will be honest, a lot of stuff doesn't add up," she conceded. "If he is lying, more than anything, I feel sorry for him. I also feel sorry for Vicki if she has been caught up in a mess of this caliber. I really can't imagine someone doing that and I don't know why someone would do that. It's very sad."