Prince Jackson Demands Post-Mortem DNA Test After Rumored Dad Dies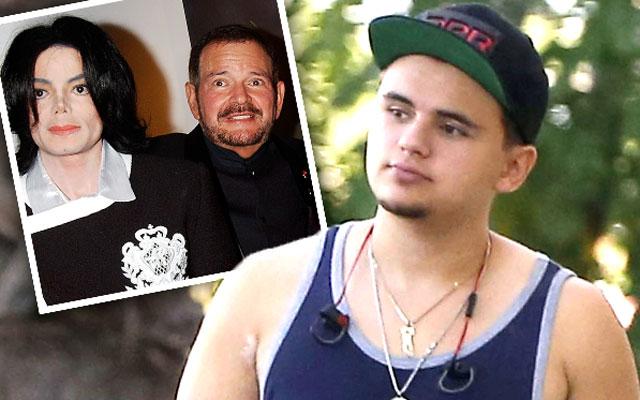 Michael Jackson's notorious doctor feelgood took many secrets to his grave. And now, RadarOnline.com has learned, Prince Jackson wants to know the truth about at least one of them! Insiders tell RadarOnline.com MJ's son is demanding a post-mortem DNA test to find out once and for all if Dr. Arnold Klein was his biological father.
The oldest son of the late music legend has lived his entire life hounded by rumors hat his biological father is actually Jackson's doctor and close friend, Klein. Klein toked the flames of rumor for years with coy hints, before finally denying he was the dad.
Article continues below advertisement
However, after Dr. Klein died this past week at the age of 70, a source very close to the Jackson family told RadarOnline.com exclusively, that "Prince is demanding that he find out once and for all who his real flesh and blood is."
In 2009, just one month after Michael's tragic death, Dr. Klein shocked the world in an interview with Larry King by claiming, "I still can't answer the paternity question absolutely one way or another. I once donated to the sperm bank. To the best of my knowledge I am not the father."
At the time, Dr. Klein's subtle yet poignant accusation was thought to be purely for the notoriety by fans and skeptics.
But, according to the Jackson insider, Prince did not see it that way at all. The source said his curiosity was only heightened a short while later when Dr. Klein posted side-by-side photos of himself as a teenager next to Prince. The photos looked almost identical.
"Prince is demanding to have a DNA test done on Arnie's body before he is buried to determine who is biological father is once and for all," said the source.
Article continues below advertisement
But time is of essence and the family friend tells RadarOnline.com that Prince's grandparents Katherine and Joe are "urging against this being done."
"Prince knows he is working against time and, although Michael will always be his father, he needs to know what his genetic makeup is."
"Everyone in the family has always had doubts that Michael is any of their father," the source added, referring to the late singer's two other children with Klein's assistant, Debbie Rowe: Paris, 17, and Blanket Jackson, 13.
On Oct. 6, prior to Dr. Klein's passing, Prince had an eerie premonition when he took to his social media to speak out on the paternity rumors.
In a message that is open for interpretation, he said, "The blood of the covenant is thicker than the water of my womb. I was raised by my dad with my brother and sister."
Watch Dr. Klein's Larry King interview here and decide for yourself, is he Prince Jackson's real father?