Death Wish! Lamar Odom Wrote Rambling Suicide Note Before OD — Who Did He Blame?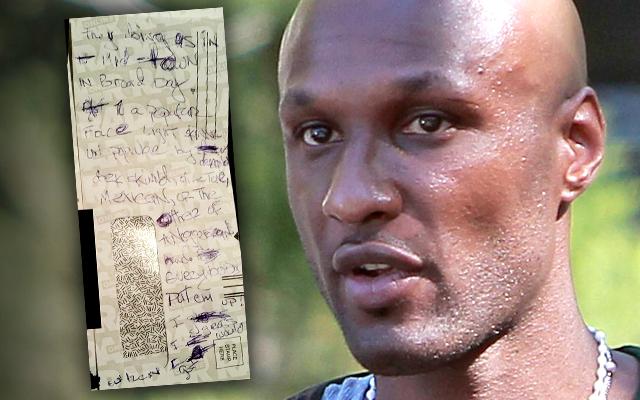 RadarOnline.com can exclusively reveal that Lamar Odom penned a rambling suicide note in a Nevada brothel bathroom sometime during the hours right before he was found near death on Oct. 13 .
The rambling suicide note reads: "... they doing as in Mid-town in Broad day.
"To a popular face light skinned, un popular by demand, dark skinned, olive toned, Mexican or the other of ****** and everybody put em up!"
Article continues below advertisement
Relationship expert to the stars Dr. Gilda Carle explained to RadarOnline.com the term "unpopular by demand" refers to his marriage to Khloé Kardashian, which had imploded — and how the Kardashians were still destroying him.
"Khloé dumped him and established a new relationship with James Harden, another NBA star. But the Kardashians were still talking about him on their show," noted Dr. Carle. "'Unpopular by demand' is how he felt, and in his confused state it led him to try and take his life."
A source close to Odom noted to RadarOnline.com that the suicide note is also a reference to an episode of Keeping Up With the Kardashians that aired on Oct. 11, just two days before two hookers found the 35-year-old former NBA star unconscious after he allegedly overdosed on a heroin-and-cocaine "speedball" at Dennis Hof's Love Ranch.
"Lamar was always full of life, but the episode really destroyed him," the source said. "He felt used and exploited by the Kardashians. He realized the deep hurt they can cause knows absolutely no bounds."