Lady Gaga Had Lesbian 3-Way With Fiancé Taylor Kinney's Co-Star!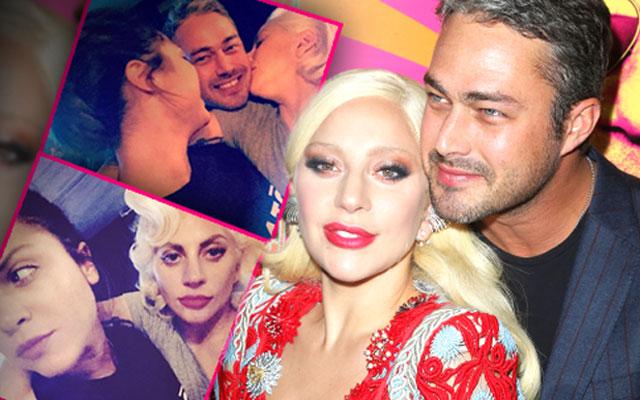 Lady Gaga is engaged to be married to Hollywood hunk Taylor Kinney, but she did not let that stop her from getting it on with Kinney's Chicago Fire co-star, Monica Raymund -- with full support and participation from her betrothed!
RadarOnline.com has learned exclusively that the trio got hot and heavy even taking intimate photos together. "Taylor loves Gaga, and he loves Monica," a source revealed. "The three of them have cuddled together for the cameras, and Gaga recently posted a photo of the three of them hugging!"
Article continues below advertisement
But according to another insider, these three are more than just cuddle buddies. "I heard the three of them have had a ménage à trois," the source told RadarOnline.com.
Same-sex liasons are not a first for either of the women involved. Raymund first publicized her bisexuality after her divorce from writer Neil Patrick Stewart. In a tweet, she told her followers that she was, "So proud to be Bi." The next day, she confirmed her story saying, "Nope I didn't just come out —you just late to the party. But I have drinks for all y'all. #BiAndProud #10Years Out&Proud Cheers, Family!"
Gaga is also openly bisexual, once saying, "It's not a lie that I am bisexual and I like women, and anyone that wants to twist this into 'she says she's bisexual for marketing,' this is a f---ing lie. This is who I am and who I have always been."
Meanwhile, Gaga's fiancé is enjoying the ride with his bisexual bride-to-be. "The three of them are definitely up to some sexual hijinks," an insider told RadarOnline.com, "and Taylor is turned on by it all!"
https://instagram.com/p/8lb1TypFJe/?taken-by=ladygaga
https://instagram.com/p/8lZVM-pFFH/