Kourtney Furious With Kris Over Secret Calls With Scott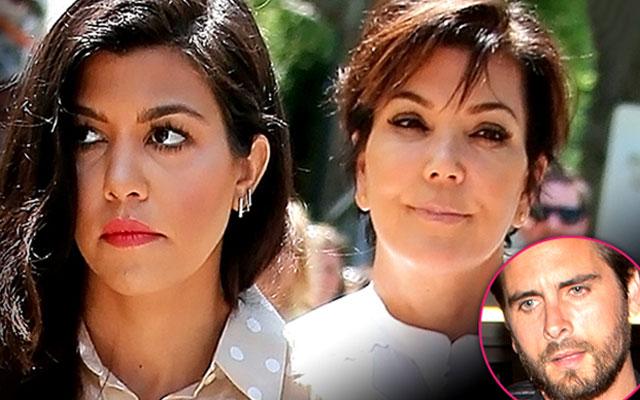 Keeping up with the Kardashians momager Kris Jenner is proving once again that it's family first — except where a potential paycheck is concerned. RadarOnline.com has learned that the family matriarch has been having secret conversations with daughter Kourtney Kardashian's ex, Scott Disick — and Kardashian is furious!
Disick recently entered rehab, and Jenner has been busy tending to Lamar Odom amid his medical crisis. But Kardashian is still angry that in the weeks before, Disick and Jenner were burning up the phone lines.
Article continues below advertisement
"Kourtney cannot even believe that Kris still talks to Scott after everything that has gone down," an insider told Radar.
"She is outraged that Kris even allows Scott camera time!"
As Radar previously reported, after Disick publicly humiliated Kardashian by hooking up with his ex-girlfriend Chloe Bartoli, the father of Kardashians brood continued to flaunt his parade of new women.
And recently, The Lord was spotted showing off his latest trophy blonde – 18-year-old Canadian model Lindsay Vrckovnik.
Not long after, he entered rehab in Malibu, where he's been making secret desperate calls to Kardashian to take him back.
For now, however, the mother to Mason, 5, Penelope, 3 and 10-month-old Reign is still holding strong with her decision to rid her life of Disick — and has her sisters' fulls upport. But it seems that her own mother may be the last to jump ship.
"Kris wants to make this whole thing drag out as long as possible so that it gets show ratings," the source tells Radar.
"Kourtney wants Scott 86'd and she is furious that Kris is doing this."
But could Jenner be doing this for her daughter's own good?
According to the insider, "Some of the family think that Kourtney is failing to see that, without the Scott drama on the show, she really has no plot. It is a double-edged sword."
Do you think that Kourtney Kardashian and Scott Disick will get back together? Tell us your thoughts in the comments below.