Exclusive
Khloe Called Off Lamar Divorce 'For The Wrong Reasons'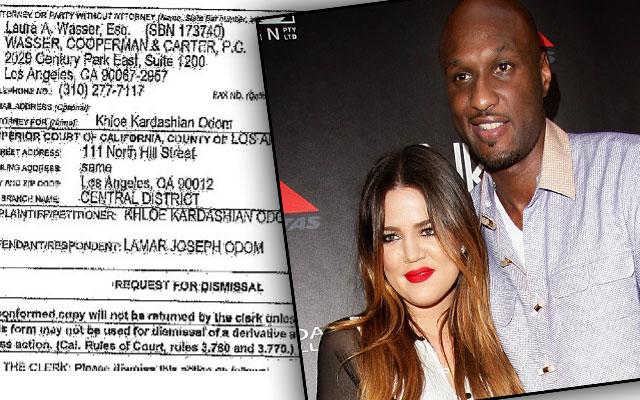 Khloe Kardashian has called off her divorce from Lamar Odom, but insiders tell RadarOnline.com that there is some concern about the motivations behind the reality star's sudden change of heart.
Wednesday morning, Kardashian's lawyer, Laura Wasser successfully petitioned a judge to withdraw their final divorce papers. But according to court records obtained by Radar, Odom signed off on the divorce petition withdrawal from the hospital bed where he lies barely conscious, and he doesn't have any legal representation.
Article continues below advertisement
Those are just a few reasons, insiders said, that there are questions about the decision.
An insider said, "It seems like one major reason Khloe decided to call off the divorce from Lamar was so she could continue to dictate Lamar's medical care."
"The judge could have signed off on the divorce on any day, leaving Khloe with no legal standing at the hospital," the insider explained. "Obviously, she didn't want to take that chance."
With her place by his side secured, "Khloe can control the message going out to fans about Lamar and the situation," the source said. "It would have been a total nightmare if his dad, Joe, had become the person responsible for Lamar's medical treatment. Meanwhile, Lamar's baby mama, Liza Morales, had no idea Khloe would be taking the legal action to stop the divorce."
Kardashian initially asked the court for a divorce in December 2013, and spent the next 18 months trying to work on her marriage to struggling Odom.
After nearly two years of delays, the couple finally signed off on the divorce agreement in July, but it was still making its way through the system at the time of his overdose.
Now they're officially married again, but only time will tell if it will last.
The source added, "Khloe had major trust issues with Lamar in the past. That doesn't automatically go away because of a major health crisis."