Final Thoughts! Jackie Collins Chilling Last Letter Prior To Death Revealed — Find Out What It Says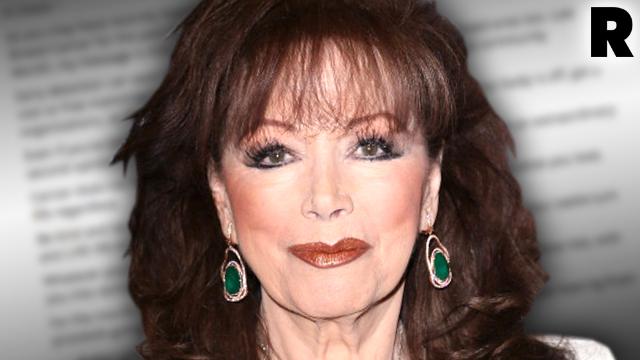 It's been almost one month since best-selling author Jackie Collins died from breast cancer, and at the time of her death, the novelist had just returned to Los Angeles from her European book to promote The Santangelos and was eagerly anticipating the release of her final novel, The Stud.
And to let her fans know how excited she was, she wrote the following letter that included both announcements.
On Wednesday, to support Breast Cancer Awareness month, her team decided to publish the letter that includes the haunting words, "Cancer does not have to be a death sentence."
Article continues below advertisement
Sadly, Collins was unaware that this letter would be her last published words.
The letter reads:
Hi there,
As you may have recently heard, I revealed that I have been LIVING life to the fullest with Stage 4 Breast Cancer for the past six and a half years. With October being Breast Cancer Awareness Month, my message is this:
Early detection can save lives! Get regular mammograms, and/or tell your loved ones too. Low cost or free mammograms are offered through many national programs and community organizations, so do your research.
Even if you've been screened, and you have a gut feeling that something in your body is off, get a second opinion!
Cancer does not have to be a death sentence! You, or someone you love, can live an extraordinary life regardless.
Be kind and be grateful. Never underestimate the power of your mind. Embrace what you love, and LIVE life to the fullest, as tomorrow is not promised to any of us.
Whatever your pain or struggle in life, don't allow it to turn you into a victim… let your battle turn you into someone else's hero!
For the month of October I will donate 20% of my self-published book sales (see below list), with proceeds going to the Susan G. Komen Foundation
Keep your comments coming on Instagram, Facebook and Twitter… you know I love hearing from you. I'm off to keep writing!
Stay healthy, stay lucky and take chances!
As RadarOnline.com previously reported, the writer lost her battle with breast cancer at 77 Sept. 19 in Beverly Hills, Calif.