Holly Madison Calls Kendra Wilkinson's Reality Show Fight 'A New Low'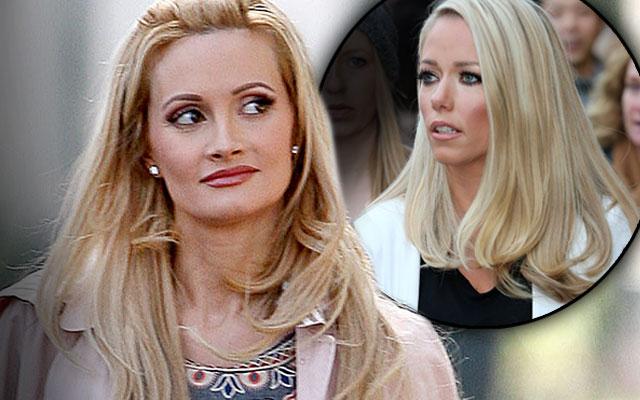 Holly Madison was completely unaware that she made an appearance on ex-friend Kendra Wilkinson's reality show, Kendra On Top, until she started receiving texts about it—after the episode aired!
Though the latest edition of Wilkinson's drama-fueled show doesn't include an actual sighting of her former Girls Next Door costar, it centers almost entirely around Madison's recent tell-all book, which Wilkinson has slammed numerous times for its alleged lies regarding the ongoings of the Playboy Mansion.
Article continues below advertisement
During the episode, Wilkinson gets so worked up that she even arrives at Madison's book signing event at The Grove shopping center in Los Angeles, hoping to confrontation her old pal.
"It was definitely a new low in my opinion as far as trying to create content out of nothing," Madison told PEOPLE. "It was a completely fake setup. She spends the whole episode ranting about how allegedly fake I am, but it was just a whole fake scene."
In the end, Wilkinson decides not to confront her former friend, and instead drives off in a huff.
"I haven't always given Kendra's brains the most credit in the past, but she's smart enough to know that had she showed up at The Grove to confront me, I would have just had security escort her off the property," says Madison. "I don't even think it was anything she was considering doing. It was more acting tough in front of the cameras.
Article continues below advertisement
Watch the Video on RadarOnline:
Recalling the inner workings of their time on Girls Next Door, Madison admits many reality show scenes and conversations have to be staged. But Wilkinson's behavior on Kendra On Top went too far, she explains.
"Because cameras aren't this omniscient eye that catch everything, sometimes you have to stage conversations to explain what is going on or to explain to the viewer what is going on in your head," says Madison. "It was all designed around something we were actually doing. So this one was kind of a surprise to me. It's on a whole different level."
Ouch! Looks like these two rivals are nowhere near the forgive and forget stage.
Kendra on Top airs Fridays 9 p.m. ET on WEtv.