Bar Fight! Charlie Sheen Dragged Out Of Pub In A Headlock After Fight With Bass Player!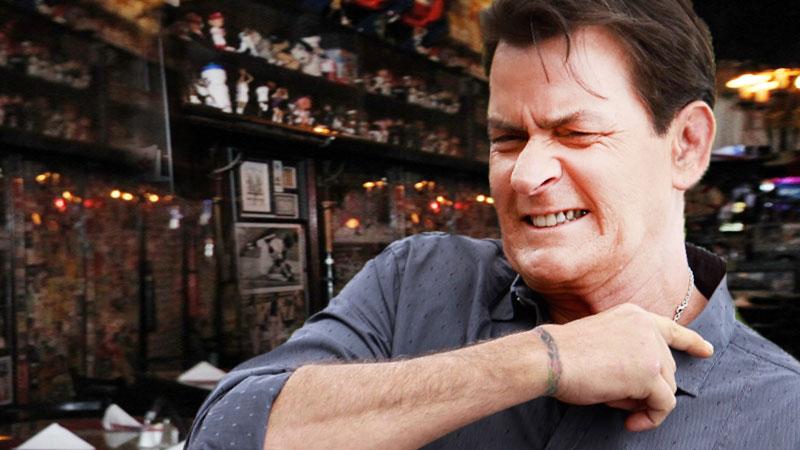 In the latest of an impressive string of outbursts, Hollywood bad boy Charlie Sheen was carried out of a Dana Point, Calif. pub after getting into a bloody and physical altercation with a bass player!
The fight began when the musician attempted to take a photo of Sheen, RadarOnline.com has exclusively learned.
The agitated former Two and a Half Men star confronted the fan, and then took his phone and threw it, according to a source!
Article continues below advertisement
A fight ensued, leading to Sheen being escorted out of the bar — at the behest of security.
Fans took to social media to share photos they took with the troubled star before the clash.
"#charliesheen just left my work in a #headlock #celebrities #sheen #twoandahalfmen," one fan wrote.
When a friend asked whether Sheen had been kicked out, she responded: "Yeah he got kicked out because he tried to fight the bass player of the band after he tried to take a pic of him."
When contacted, a member of the bar's security team denied putting Sheen in a headlock, declaring that he was carried out by his arms to ensure that he was "not a danger to others."
https://instagram.com/p/8r6MqSzDQU/
https://instagram.com/p/8r6VY0zDQg/
https://instagram.com/p/8r1qagSRL1/
As RadarOnline.com has reported, Sheen has a history of bad boy behavior, recently sharing unkind words about his ex Denise Richards.