Vicki Betrayed! Brooks Ayers Turns On Tearful Gunvalson At 'RHOC' Reunion -- Cancer 'Lies' Exposed At Last?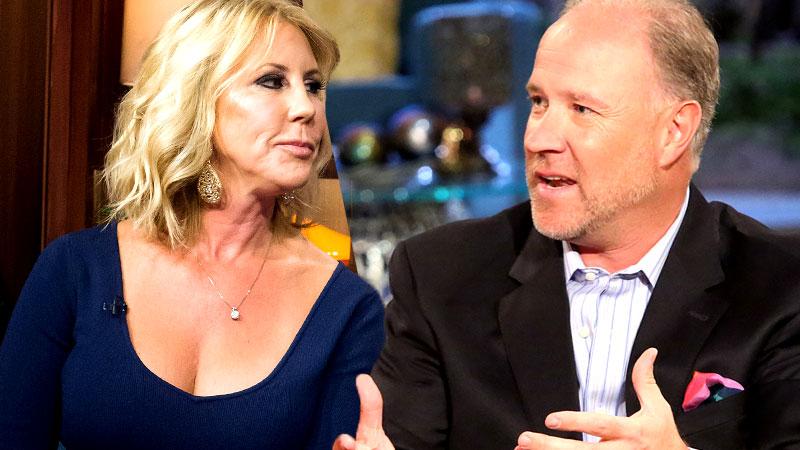 For months, Vicki Gunvalson was Brooks Ayers' only ally as her Real Housewives of Orange County cast mates continued to badger him about the validity of his cancer diagnosis. But RadarOnline.com has learned that he repaid her in the worst way imaginable -- by turning on her at the RHOC reunion!
A show insider told RadarOnline.com that the reunion, filmed on October 1, "was absolutely brutal!"
"Portions of Brooks' interview with Andy Cohen were played, so the cast could react," the source explained. "And he called Vicki a liar and manipulator! Vicki couldn't believe that Brooks turned his cancer storyline on her and threw her under the bus."
Article continues below advertisement
"Brooks was horrible to Vicki and she was absolutely gobsmacked by it," the source said. "Never in her wildest dreams did she think that Brooks would turn on her."
However, it wasn't only Ayers that came after her. According to the source, former friends Shannon Beador and Tamra Judge were in attack mode too.
"Tamra accused Vicki of lying for Brooks about the cancer diagnosis," the source said. "Vicki broke down in tears at the accusation. Then Shannon and Vicki continued to fight, and the rest of the cast joined in. Vicki felt attacked and was adamant she never lied for Brooks."
However, questions about the cancer scandal are likely to remain even after the reunion airs. The source also revealed that Ayers didn't provide any medical records to Cohen verifying the cancer diagnosis.
The reunion will air over a three week period beginning after the finale episode next Monday night.
Even though Gunvalson continues to insist she believes Ayers' diagnosis, Bravo producers have their doubts.
Article continues below advertisement
As RadarOnline.com reported, Real Housewives head honcho Andy Cohen discussed the upcoming Orange County reunion on his Sirius XM show and Bravo producer John Hill confessed, "I wouldn't be surprised if Ayers' cancer diagnosis is fake, if it's not true. I don't think that if something is true, he wouldn't be defending it like he is."
Cohen also confirmed RadarOnline.com's reports that he interviewed Ayers in a segment to be aired at the reunion.
"What I liked about this reunion was there are a lot of revelations," he said. "There were emotions; there were tears."
But could it be her last reunion?
The source said that at the end of the filming for the reunion, Cohen asked the women if they would return for another season and "Vicki said that She didn't want to return."
"But that is what she always says," the source explained. "In the end, Vicki will ultimately return because she loves all of the drama."