Bobbi Kristina Did Crack, Heroin 'Often' Before Her Death, Best Pal Reveals In Stunning Legal Deposition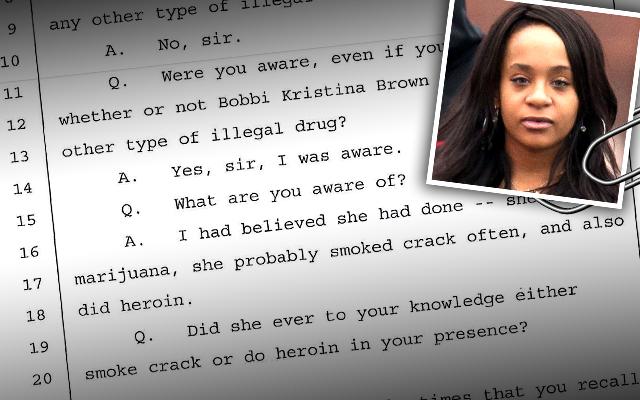 Bobbi Kristina Brown's final weeks alive were a haze of heroin, crack cocaine — and marijuana, her best friend has testified.
As tragic Brown's former boyfriend, Nick Gordon, continues to face a wrongful death suit from her estate, could these bombshell new claims shed new light on how the tragic daughter of Whitney Houston and Bobby Brown really died?
Brown's former roommate, Danyela Bradley, made the new allegations in a videotaped deposition, a transcript of which was obtained exclusively by Radar.
Article continues below advertisement
It was not part of Gordon and the Brown estate's civil suit. Instead, the shocking allegations were made in a lawsuit brought by Russell J. Eckerman, who was allegedly injured as part of a car crash involving Brown and Bradley.
Eckerman's attorneys began by asking Bradley how she came to know the daughter of the pop legend, and she explained they became acquainted through Gordon's friend and Brown's ex, Max Lomas, in November 2014.
By January 2015, she said, she was living in Brown and Gordon's Atlanta-area townhouse, along with Lomas -- and she said she witnessed the effects of Brown's drug use firsthand.
Bradley claimed that all four of the home's occupants were known to consume marijuana -- on one incident, up to a gram in one night -- but she said Brown dabbled in harder substances as well.
"She probably smoked crack often, and also did heroin," Bradley told lawyers.
Article continues below advertisement
"When she would do the heroin she'd just be very sleepy, nod off, and very less talkative, kind of keep to herself," she claimed.
"When she would smoke crack, she would just be not even talkative. She'd just be keeping to herself as well."
Bradley claimed that Brown "would do crack like once or twice every two weeks," claiming, "Nick smoked it more than her."
"When I had first lived with her, I didn't know that she actually had a problem with it," she continued, "until I had lived with her afterwards for a couple of weeks … and after a few weeks she just didn't really hide it."
Now, Eckerman's attorneys are fighting the court to find out just what drugs Brown was really doing before she was found unresponsive in a bathtub at her home on January 31, and in what quantities.
They've requested a full toxicology report for Brown, outlining 15 different substances including amphetamines, methadone, cocaine, and more, from January 31 to February 3.
Meanwhile, Gordon's civil suit continues. As Radar reported, Brown's estate has accused him of having "injected her with a toxic mixture" that resulted in her death, as well as brutal abuse that allegedly knocked out her tooth and left her blood spattered around the town home. Gordon has denied all charges.