Exclusive
Disgraced Comedian's Alleged Sex Attack At Playboy Mansion Could Be On Film — 'They've Got About 16 Cameras'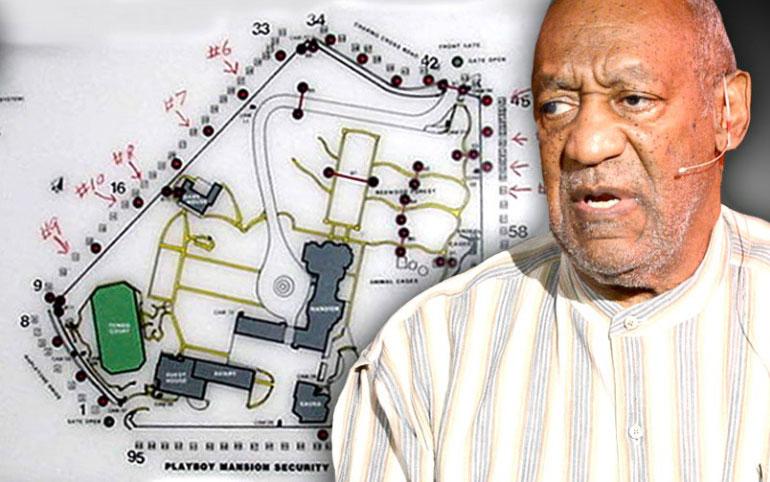 Secret video evidence could nail Bill Cosby for an alleged 2008 sex attack at the famed Playboy Mansion, RadarOnline.com has learned.
As Los Angeles authorities consider charging Cosby for the assault, Radar has exclusively obtained top-secret blueprints that pinpoint the location of every camera at the 22,000-square-foot party palace.
SEE THE ARCHITECTURAL PLANS: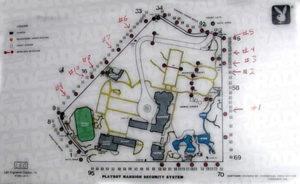 Videotapes from those cameras could back up the claims of blonde beauty Chloe Goins, who's accused the creepy comic of sexually assaulting her at the mansion when she was just 18.
Article continues below advertisement
Cosby, 78, stands accused of attacking more than 100 women in a drug and rape scandal.
The assaults span 43 years, from 1965 — just a year after Cosby married wife Camille — to 2008 when Goins said she was attacked.
While Cosby's lawyers have repeatedly denied the allegations, video proof of Goin's assault could finally put him behind bars.
"I know they've got about 16 cameras at the mansion," said an insider, who provided Radar with the never- before-seen blueprints.
Goins, a model, was with a pal when she said she began feeling faint after sipping on a drink prepared for her by the Cosby Show dad.
Goins said Cosby escorted her to one of the mansion's bedrooms where she later woke up to find the former Jell-O pitchman nibbling on her toes with his pants around his ankles.
After conducting an investigation, L.A. Police Department detectives forwarded the case on Oct. 1 to the District Attorney's Sex Crimes Division to determine whether charges will be filed, Greg Risling, a spokesman for the district attorney's office, told Radar.
Article continues below advertisement
On Oct. 6, Goins slapped Cosby with a federal lawsuit listing the names of women who have publicly accused Cosby of attacking them, and descriptions of the assaults.
According to her attorney, Spencer Kuvin, the suit was filed in federal court to take advantage of its powerful subpoena power to summon victims from across the country to testify against Cosby.
"I am going to be able to bring to court almost 50 victims with the same exact story to tell," Kuvin said. "I think that will be a pretty impressive list of women to show that he has a 'habit pattern' of practice."
Kuvin also said he alerted the LAPD to the videos but doesn't know if authorities confiscated the evidence.
Said Kuvin: "We're hopeful that they now have that information, and now that we are in federal litigation we'll be able to subpoena it."