American Cinematheque Awards Giveaway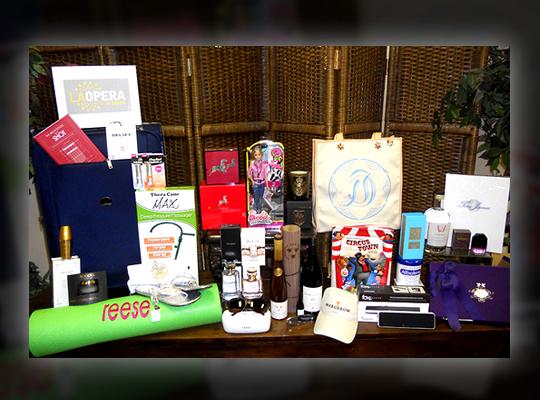 This sweepstakes is now over. You too can be a star! Win the bag given to Reese Witherspoon, Kate Hudson, Jennifer Aniston, Jennifer Garner and more backstage at the 2015 American Cinematheque Awards on October 30!
To enter, be sure to follow us on TWITTER and tweet using #RadarGiveaway. Contest ends Nov 5th at midnight. The more you tweet, the higher chance you have to win!
Prize pack includes:
Albolene – Albolene Moisturizing Cleanser is a makeup remover that easily cleanses stubborn mascara and lipstick, yet leaves skin feeling soft, moisturized and younger looking. Used daily, it's clinically proven by the Skin Study Center to moisturize better than the leading brands in its category.
Article continues below advertisement
BOUCHERON QUATRE for Woman Perfume - QUATRE for Woman, a modern and daring olfactory interpretation of the Maison Boucheron's iconic ring. Winner will receive one fragrance.
ChapStick Total Hydration 100% Natural - New ChapStick® Total Hydration 100% Natural is an age defying formula with Argan Oil and a unique blend of natural butters and oils to moisturize and replenish your lips. It's clinically proven to provide healthier and more youthful looking lips.
Chloe Sunglasses by Marchon - Marchon Eyewear, Inc. is one of the world's largest manufacturers and distributors of quality eyewear and sunwear. Marchon distributes its products through numerous local sales offices serving over 80,000 accounts in more than 100 countries.
DASH7 by Soundmatters International – "World's Best Travel Speaker" (Sound+Vision), Dash7 is a precision engineering portable speaker with shockingly clear-audio in a truly compact size.
Article continues below advertisement
DELSEY Paris - DELSEY Paris, the iconic French luggage brand, has been creating pieces unmatched in design and innovation for over 70 years. DELSEY's newest luggage collection MONTMARTRE+ is elegant, sophisticated and ideal for frequent travelers thanks to exceptional organization and storage options.
DRAPER JAMES – The Draper James signature wool throw has fringe detailing and an embroidered logo monogram. The Draper James Vanderbuilt tote is the carryall you'll reach for daily, and is complete with contrast pinstripe lining and our signature magnolia-shaped hardware. Winner will receive a tote.
EMPOWER – The Empower Cosmopolitan Martini is a new delicious ready to drink cocktail that contains sweet potato vodka, white cranberry, triple sec and lime. Inspired by a woman for women. Alcohol is not included in this prize. Winner will receive a shirt. www.empowercocktails.com
Frank J. Sileo, PhD. – Written by a psychologist, this picture book teaches children to not put themselves down and build their self-confidence.
Article continues below advertisement
LA Opera – Two tickets to any one mainstage production during the LA Opera 2015/2016 season. Certificate holders may choose the performance; tickets are non-Transferrable and restrictions may apply.
Lenox Corporation – Scalamandre Zebras Lacquered Box by Lenox - Iconic leaping zebras and shooting arrow designs decorate the stunning Scalamandre Zebras Lacquered Box. Bold black and white on a background of dramatic red assures this unique box a special place in your décor.
LUXTRADA - The signature luxury Bikini Sandal is like none other in its class, with undeniable beauty. An original symbol of American luxury, Luxtrada was born into fashion never compromising quality.
Margerum Wine Company - Margerum Wine Company is committed to creating handcrafted wines using only the highest quality grapes. The MS wine is a Rhone-style blend ofSyrah, Grenache, Mourvèdre, Counoise, and Cinsault – the perfect wine to enjoy with friends and food. Alcohol is not included in this prize. Winner will receive promotional items.
Article continues below advertisement
MATTEL, INC. – Film Director Barbie® doll is ready to make movie magic- Girls can explore the exciting world of directing movies with the Barbie® Career of the Year Film Director Doll. She's ready to get behind the camera in an outfit that is both functional and fashionable.
MyCustomYogaMat – MyCustomYogaMat creates embroidered, personalized yoga mats. Choose your mat color, thread color, font style and add a name, monogram or inspiration word and a gift-wrapped custom embroidered yoga mat will arrive at your door.
ONE LIFE VEST - One Life Vest, a southern-California based company is dedicated to protecting the well-being of Earth's inhabitants by using all natural and organic ingredients for their needs. One Life Vest has combined the amazing benefits of natural plants with modern day science, to bring the best gift nature can offer.
OROGOLD Cosmetics – Luxury anti-aging skincare products, infused with 24k gold.
Article continues below advertisement
Savannah Bee - Savannah Bee Sourwood Honey Gold Reserve is absolutely the finest quality Sourwood honey we have seen with an orchestra of flavors ranging from maple spice to caramel to gingerbread. In August, Sourwood Honey was awarded its 4th Gold Medal at the World Honey Show 2015.
Stella McCartney – Stella McCartney perfume.
The Architecture of the Shot: Crafting the Perfect Shot from the Bottom Up – With this brilliant bold red book, you will master 75 classic shots by following an architectural blueprint of precise layering to construct the perfect shot. Written by Paul Knorr, Illustrated by Melissa Wood, Published by Race Point Publishing & HarperCollins UK.
THE KOOPLES SCENTED CANDLE - Developed in collaboration with the Maison Cire Trudon, this natural scented candle diffuses for hours its signature perfume: a subtle balance between feminine and masculine notes associating gilded wood, cedar and eucalyptus.
Thera Cane MAX Trigger Point Massager – Treat yourself to deep relief from painful, knotted, spasmed muscles. This amazingly simple yet effective self-massager makes it easy to apply pain-relieving deep compression directly to hard, knotted "trigger points" anywhere they occur - breaking up tension even in the hardest-to-reach muscles between your shoulder blades!
Article continues below advertisement
Tom James Co. – Creating a custom shirt is an opportunity to express your sense of individual style. We offer only the best in fabrics and details to ensure that you stand out from the crowd. Custom shirt not included in this prize. Winner will receive a tie.
Vosges Haut-Chocolat – Vosges Haut-Chocolat's signature 32 piece truffle box which includes truffles from our Groove, Italian, Aztec, and Exotic collections. Each purple box is hand-tied with a satin bow and includes an enclosure booklet describing the flavors and telling our unique truffle stories.
Items in photo subject to change based on availability - some colors and styles may vary. Courtesy of Backstage Creations.