Busted! Tamra Judge 'Hates' Her Fakery Was Exposed On 'RHOC' — Behind The 'Sex Party' Fallout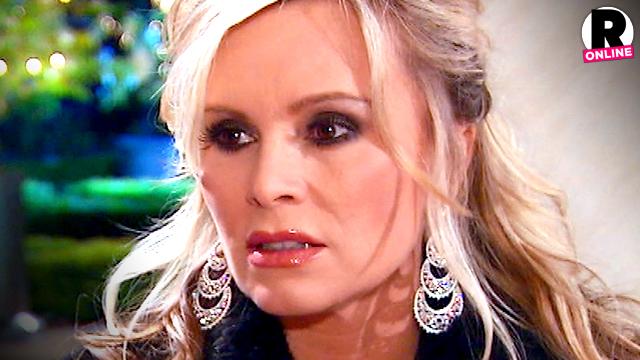 Tamra Judge's out-of-control antics at her "sex party" were an embarrassment to the reality star when they were exposed exclusively by RadarOnline.com — and she's been desperately trying to repair the damage done ever since!
Judge was busted when a source told Radar that she got in a fight with her Real Housewives of Orange County co-star Meghan Edmonds and shockingly ripped her shirt off to expose her breasts "for attention" and drama.
Article continues below advertisement
After Radar recently laid bare her questionable actions, behind the scenes, the 48-year-old grandmother was furious.
"Tamra hates that she was getting ripped for creating drama on the show," the source told Radar. "She works so hard to cultivate her image and doesn't like when the fake stuff is put out there."
The eyewitness told Radar that prior to exposing her breasts, Judge yelled at Edmonds while she was talking to Shayne Lamas, who has now been floated as a new addition to the Bravo franchise.
However, Lamas' husband, The Dirty founder Nik Richie, shot down the job offer. "There has always been a huge outpouring for Shayne and I to be on the show," he told Radar.
"But I don't want to be on RHOC. Partying with grandmas doesn't sound fun to me," added Richie. "Plus, there has yet to be a success story from the Housewives franchise. Everyone ends up in jail or divorced trying to create drama to maintain their fame and paycheck."
Article continues below advertisement
Richie noted he's "really good friends" with Judge and that he has witnessed firsthand how fame turned Simon Barney into a "lunatic."
"Now he constantly attacks her and spreads vicious lies about her character just to stay relevant — it's pathetic," blasted Richie. "And let's be honest, Shayne and I are too authentic for RHOC. I'm actually from Orange County and reside in Coto de Caza, the birthplace of the franchise. The show has turned Hollywood and I can't act."
What do you think about Tamra and the sex party story? Sound off in comments below.