Officially Feuding: Vicki Gunvalson Claims Meghan Edmonds' Marriage Is On The Rocks –– Calls The 'RHOC' Newbie 'Evil' & 'Crazy'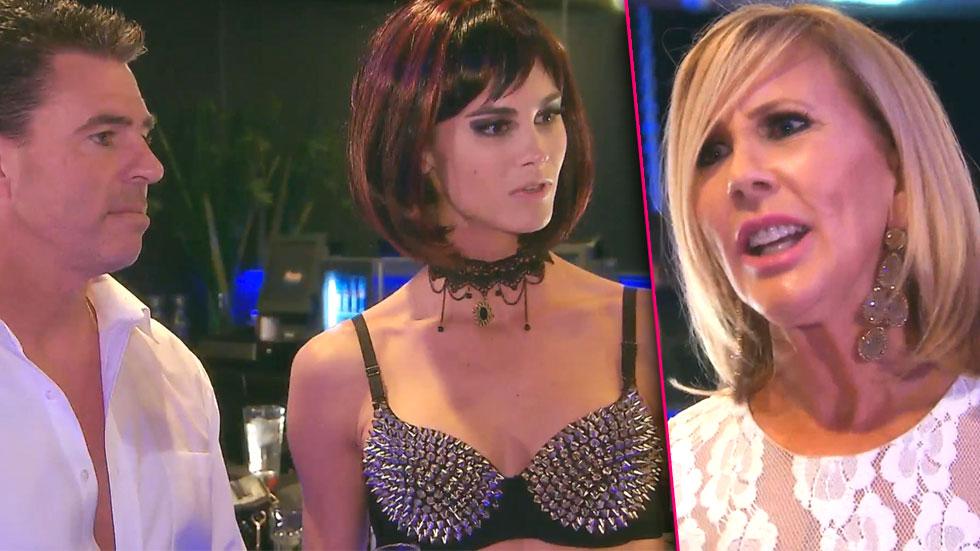 On the Real Housewives of Orange County, Vicki Gunvalson and Meghan King Edmonds went head-to-head over Vicki's boyfriend Brooks and his alleged battle with cancer.
"Meghan is completely out of line here," Vicki shares in confessional after Meghan insinuates that Brooks has been faking the terminal illness.
As their heated lunch continues, Vicki puts on her mama-bear armor, defending Brooks to the bitter end: "Do you really think he wants to die Meghan? Are you really that ignorant?"
Article continues below advertisement
Meghan rolls her eyes in her confessional, calling Vicki's actions "a deflection, so that I look like the bad person."
Soon after, the ladies take a break from their argument, but Vicki is nowhere near ready to forgive and forget.
"It's disgusting to me, I don't want to see her ever again," she tells pals Shannon Beador and Tamra Judge.
Meanwhile, in another corner of the room, Meghan keeps it simple when it comes to sharing her opinion of Vicki.
"She's a b*tch," she scoffs to Heather Dubrow.
Watch the Video on RadarOnline
But leave it to Tamra to lighten the mood. The fitness guru turns the lunch around, announcing that she'll be hosting a sex party after she and husband Eddie released a faux sex tape for a fitness exercise video.
Shannon may not feel up for a sex party, however, especially after hubby David gave her a less-than mediocre birthday dinner that week.
Article continues below advertisement
With memories of his affair during her last birthday swirling around her head, Shannon finds it difficult to get over the ordeal.
"I'm sorry that your expectations were unmet," David pleads, urging Shannon to forget the whole thing as she wipes away tears.
"Sometimes I do feel pressure from David to get over the affair," she later tells cameras of their conversation. "I'm entitled to take the time that I need."
Luckily, the sex party proves to be both frisky and feisty. Despite trying to ban all drama, Tamra soon finds that Vicki and Meghan can't help but revive their blowout fight.
Watch the Video on RadarOnline
"I'm not going to apologize," Meghan threatens as tensions run high between the two divas once more.
"Lower your eyes because you're very evil," Vicki finally erupts.
After hearing that, Meghan calls over hubby Jim Edmonds for some support. But her plan soon backfires when Vicki pulls out the big guns.
Article continues below advertisement
"Jim, talk to me in five years when you're divorced," she told the former Anaheim Angel.
Lucky for Vicki, Jim was too busy scolding Meghan for dragging him into the drama to even hear her insults.
"Don't ever put me in that situation again -- I don't really give a f*** about what everyone is talking about," Jim tells Meghan before the two make their exit.
The rumors continued to build, however, as Vicki lets Tamra in on a secret.
"Jimmy told Brooks, 'We've been married four months and two of the months have been challenging,'" she whispers, leaving Tamra in shock.
Do you think Vicki's antics will finally take down Meghan for good? Sound off in the comments below!
Real Housewives of Orange County airs Mondays at 9/8c on Bravo.