Exclusive
Dark Past REVEALED! 'RHOA' Transsexual Amiyah Scott Has Secret Arrest Record –– Forgery, Assault & More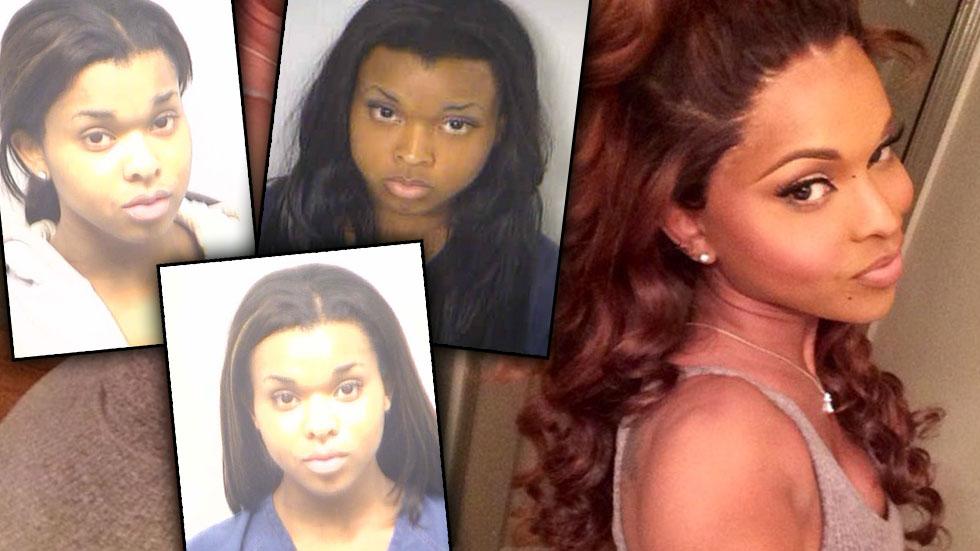 It will take a whole lot of woman to fill NeNe Leakes' shoes on The Real Housewives of Atlanta. And RadarOnline.com has learned that transsexual Amiyah Scott just might be the one to do it! The glamorous and outspoken Atlantan -- recently spotted filming for the new season, but not yet confirmed -- has a history of questionable behavior in her past, including multiple arrests!
According to police reports obtained by Radar, Scott — who used to go by the name of Arthur Roy Scott III — was arrested on March 3, 2006, by the Fulton County Police Department in Georgia and charged with felony theft by receiving a stolen vehicle.
Article continues below advertisement
After failing to stop at a traffic signal, the police report details that Scott was pulled over by an officer. Upon the running the car's tag, "the vehicle came back as stolen" and Scott was placed under arrest.
Before this case went to trial, Scott did a Pre Trial Intervention instead, and the case was disposed. But it wasn't the end of her legal troubles.
On May 10, 2007, police put out a warrant on Scott for the charge of forgery in the first degree. She was picked up months later on Nov. 23, 2007, and booked by the East Point Police Department in Georgia.
The initial offense took place on Feb. 20, 2007. According to the police reports Scott purchased a Yorkshire terrier dog from a victim and wrote a bad check for the dog using the name Kim Xerogeanes. According to the report, the victim learned that the check had been stolen and informed that police department that the same scam had been pulled on another individual as well.
It was thanks to the second victim recalling tag numbers that the case was able to be linked back to Scott — and Scott's name was subsequently listed as suspected in "two other similar dog thefts," the documents state.
Article continues below advertisement
The officer also learned that Scott "was going through the process of being a transsexual," the documents state, which lead the officer to believe that Scott ripped off her victims "dressed as a woman."
Scott's mother gave the first victim her money back, according to the documents, but Scott's case still moved forward. She eventually negotiated a plea deal.
Scott's reputation also took another hit when she was arrested on Nov. 14, 2009, under the name Adrienne Scott-Berry for misdemeanor simple assault after getting into a fight with her neighbor.
According to the police report, the neighbor claimed that Scott threatened to "kick his ass… and walked towards him in an intimidating manner as if she was going to hit him" and that the neighbor "feared for his safety."
The simple assault charge was dismissed.
Scott did not immediately respond to Radar's request for comment.
Do you think Scott seems like a good fit for RHOA? Let us know in the comments!