Trying To 'Be Okay': Melissa Scatters Joan Rivers' Ashes Ahead Of Death Anniversary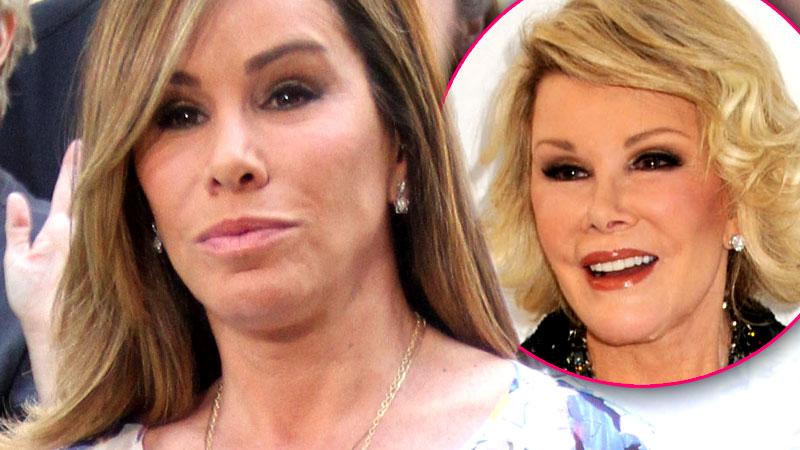 A year ago this Friday, Joan Rivers passed away at age 81 as a result of surgical complications during an unauthorized procedure in New York City. Now, as the anniversary of her mother's death approaches, Melissa has opened up about honoring her mother's memory by scattering her ashes in one of the comedian's favorite places.
"Coop and I took our annual family vacation to Wyoming," Melissa told Entertainment Tonight. "The first without my mom and scattered some of her ashes there so we can still be together every August as a family."
Article continues below advertisement
https://instagram.com/p/6abi25jvVM/?taken-by=mel_rivers
Melissa, who shared Instagram photos of her teenage son enjoying time at the family's beloved vacation spot, also revealed that she would not be marking her mother's passing with pomp and circumstance. "Everyone expects me to have this big grand plan for the 4th and I am just going to be spending it with my son," Melissa said. "He is going to go to school, I am going to go to work and come home and light a candle, and have a glass of wine."
As RadarOnline.com has reported, the 47-year-old has made it her mission to revive Fashion Police following it's rocky run since her mother's passing. Honoring her mother's legacy, Melissa says not only means taking her seat on the show, but also dealing with her death the way Joan would have wanted. "Cooper and I talk about what would be the best way to honor her legacy," Melissa revealed. "And the best way to honor her legacy is to be OK."